Cornish Pirates chairman hails win over Rotherham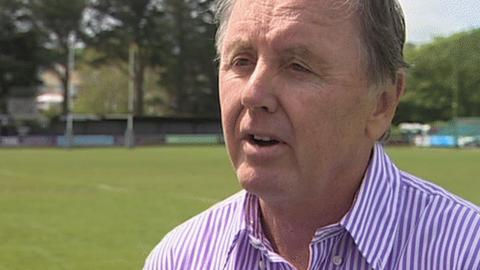 Cornish Pirates chairman Dickie Evans says his side showed their quality in their 17-14 win over Rotherham.
A Phil Burgess try and four penalties from Rob Cook sealed the narrow victory and means they are now just one win away from a semi-final spot in the Championship play-offs.
"In terms of quality in workmanship and on the ball, it was something special," Evans told BBC Radio Cornwall.
"They showed true pedigree and it looks good for the next couple of weeks."
He continued: "The Bedford result [a 26-25 defeat] two weeks ago hit us badly but we've bounced back with two wins.
"They came to do a job and did it very well but at no time in the second half did I feel the Pirates were going to crack.
"Our pack is beginning to show that we are a force to be reckoned with."
The Pirates now have a two week break from the play-offs and turn their attention to the British and Irish Cup semi-final against Crosskeys.
"They've been thumping teams lately so it's going to be a tough game," said Evans. "But if we play like this then I don't think many sides will turn us over."