Launceston captain Tom Rawlings rues referee's decisions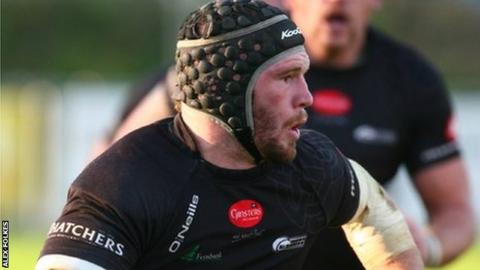 Launceston captain Tom Rawlings believes the decision to send off Ben Hilton in their 20-13 win at Barnes was a "harsh call" by the referee.
Shortly after crossing the whitewash, Hilton received two yellow cards meaning the Cornish All Blacks had to play the second half with 14 men.
"I think there were a couple of harsh calls," he told BBC Radio Cornwall.
"On several occasions he didn't have the input from the touchline and had his back to play."
He added: "But that's life. Maybe on a different day and a different referee, who knows?
"I think Ben was really upset to have got the red card but he's over the moon we ground out the victory and got the right result."
The visitors led 7-3 at half-time and despite Hilton's absence they managed to maintain their lead and edge past relegation-threatened Barnes.
"At times we rode our luck," added Rawlings. "In the first half we played too much rugby in our own half. But in the second half we dominated territory and we ground out the win.
"We'll take that every day. We needed points and we knew they were going to battle.
"It's a brilliant result and exactly what we came up to do."