Cardiff Blues criticised over Gavin Henson sacking
Last updated on .From the section Rugby Union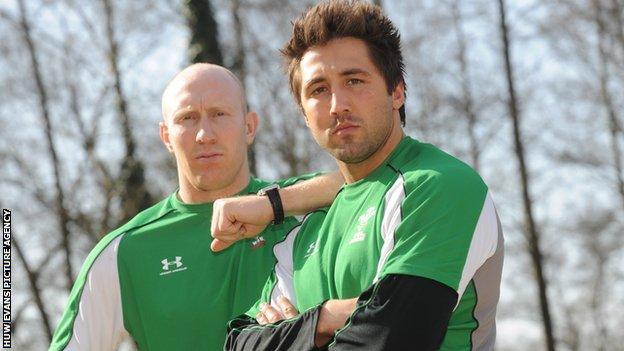 Cardiff Blues have been criticised for their decision to sack Gavin Henson for misbehaviour on a flight from Glasgow.
The former Wales star was dismissed on Monday with the club saying it "sent out a clear message that behaviour like that will not be tolerated".
But Blues star Casey Laulala said on Twitter: "It wasn't bad at all. Been blown out of proportion. Club are just amateurs dealing with things."
Ex-Ospreys boss Lyn Jones described the decision as "inexcusable".
However, BBC pundit Jonathan Davies said it was "sad but understandable" and Henson's fault.
Former Wales star Tom Shanklin said financial considerations may have played a part in the decision but former Cardiff, Wales and Lions fly-half Gareth Davies, a former Cardiff RFC chief executive, said he hoped that was not the case.
"I'm sure there'd be speculation that perhaps this was linked to cost-cutting," said former Wales and Cardiff fly-half Gareth Davies.
"I'd like to think not. I'd like to think that the Blues would have made a decision based on purely the facts of the weekend.
"I hope it was purely down to showing a proper example - what the club, and indeed any club or national team, would expect from professional players."
London Welsh boss Jones said the Blues team management should be held to account over the events that led to Henson misbehaving under the influence of alcohol on the Saturday morning flight home following Friday's Pro12 defeat at Glasgow.
Jones said: "They have to be looking at who was running that trip to Glasgow, they've got to be looking at the team manager. Why was [Henson] drinking in the morning? Why didn't [the team manager] stamp that out?
"Henson's not innocent - he's made a mistake, like every other player. Like Danny Care [did], but has he been sacked by Quins? There are several hundred examples like this.
"It took a drugs scandal in Bath to get rid of some players. For Gavin to be hung out to dry like this is inexcusable."
Former Wales Test star Shanklin says Henson's behaviour - which the player himself admitted was "inexcusable" - gave the Blues a chance to cut their costs amid difficult financial times in Welsh rugby.
He said: "If you look at the picture in Welsh rugby at the moment, teams are looking to save money.
"Players that come into clubs are on a big wage. If they're not playing, then they're certainly going to look to get rid of them by the end of the year.
"Because it's just wasted money, isn't it?
"If players are on a big wage you want them to be playing and getting value for money week in, week out.
"And they probably weren't getting that with Gavin."
Shanklin added: "I think he can still play rugby but it's down to clubs if they want to gamble on him. But he is a big name who puts bums on seats."
Former Wales fly-half Davies describes himself as a "fan" of Henson, but says the Blues' stance is understandable.
He said: "The first thing is it's very sad, because Cardiff Blues gave [Henson] an opportunity and he's kind of messed it up again.
"As they've said, they've got a responsibility to their supporters and, in this professional age, to the sponsors - and he seems to have blown another opportunity.
"I'm not surprised because it is a professional game now and you've got to act accordingly.
"Sponsors have a responsibility over who they are associated with and unfortunately with things like this, it's going to make the papers.
"So it's very sad and he did have a lot to offer, but there's only one person to blame and sadly, that's Gavin himself and I'm sure he'll be bitterly disappointed when he looks back on his career."