Sacked Gavin Henson still has a lot to offer, says Lyn Jones
Last updated on .From the section Rugby Union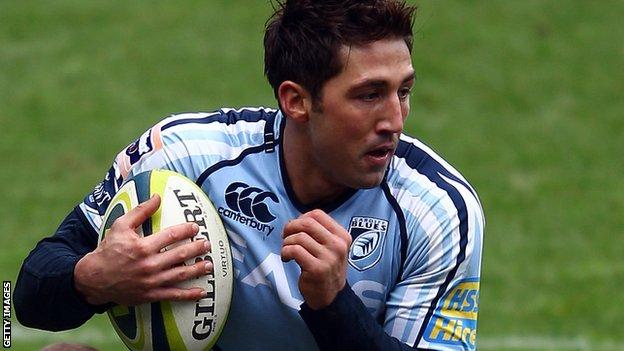 Gavin Henson has plenty more to offer as a rugby player despite his sacking by Cardiff Blues, according to former coach Lyn Jones.
And London Welsh coach Jones, who worked with Henson at the Ospreys, told BBC Wales he could get the best out of the 30-year-old.
He said Henson, and others, needed to learn to deal with alcohol.
"I think he's still got a lot to offer," Jones said.
"Gavin needs to go into an environment where he can be trusted and left alone to play and to be helped to the next level.
"I'm unsure whether there are many sides still with the patience to offer that olive branch to him.
"What life and coaching is about is dealing with people and dealing with their egos and giving them the best environment to come through and to perform on the field.
"I think I could do that comfortably for Gavin or any player.
"I have no issues at all with Gavin Henson. I think he's a very sweet and polite gentleman and I think he's just suffered on this occasion for being Gavin Henson."
Asked whether London Welsh would be interested in signing Henson, Jones said the English Championship club could not afford him.
Jones, who coached Henson at the Ospreys between 2003 and 2008, believes the Cardiff Blues have set a precedent by sacking the former Saracens and Toulon player.
"I think they [Blues] had many options open to them to deal with this any way they like," said Jones.
"I think they've set a precedent for themselves and a dangerous one.
"All young rugby players get into a bit of bother from time to time and they've set a precedent now that this is how they are going to deal with it.
"I can assure you I've got many stories of many players, better than Gavin, when they've been in a spot of bother.
"Alcohol is a very potent drug. It's the scourge of society, not just sport, and lots of people get into a spot of bother when they're under the influence."
He said Henson was obviously "a different fella to what he can be" when alcohol was involved.
"He needs to learn that, and not just him, but all young players and people. He's a grown man and he should be able to deal with himself by now.
"But at the same time, people drinking alcohol at seven o'clock in the morning or whatever time it was is certainly not acceptable in a professional rugby environment."