Cardiff Blues reject Gavin Henson sacking is distraction
Last updated on .From the section Rugby Union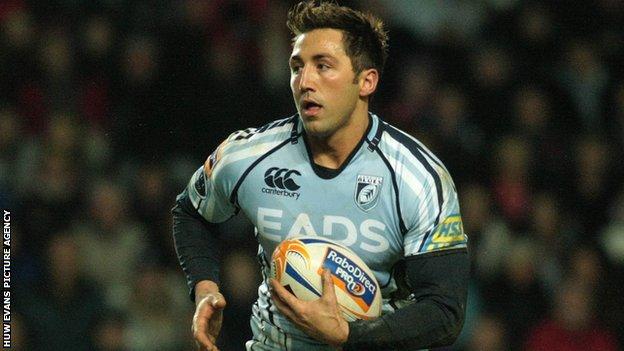 Cardiff Blues coach Gareth Baber insists Gavin Henson's sacking will not hinder preparations for their Heineken Cup quarter-final against Leinster.
Henson was dismissed by the Blues after his alcohol-fuelled misbehaviour on a Saturday flight from Glasgow to Cardiff.
The Blues will also be without centre Jamie Roberts because of a knee injury.
"It doesn't really effect it to be honest. We have got a group of players who are quite robust," said Baber.
"We have got more important things at hand like increasing our form at the moment and looking at what Leinster bring to the game.
"In the players that I have got - it has been well-documented that Jamie [Roberts] is injured which is a blow for us - two players in terms of Gavin Evans and Dafydd Hewitt who have epitomised exactly what the culture is here."
Though the Blues claim they have moved forward from the Henson incident on the Flybe plane, Baber admitted the timing and the publicity had not been ideal.
"Obviously it wasn't welcome news coming back on Saturday morning," he said. "We didn't want it this week but has been dealt to us.
"But in fairness to the players they have understood what is going on. They have been briefed by the chief executive [Richard Holland].
"And it's been dealt with quickly and we felt that was the necessary action to certainly focus the minds on what we need to do this weekend and which is to win [against Leinster] in the Aviva."
Baber also insisted that it was only Henson who had over-stepped the mark in Glasgow after going out with "several" team-mates.
"They went out, several of them went out, and not all of them took it to the excess that individual [Henson] did and they came back to the hotel and were fine.
"They are grown man - they are professionals - it takes a lot for a player to wind down. It is disappointing to end up in this situation on Saturday morning. But that's the way it was."