Exeter Chiefs boss Rob Baxter rues 'baffling' decision
Last updated on .From the section Rugby Union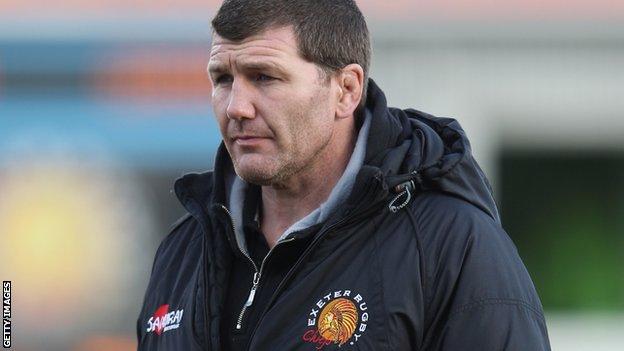 Exeter Chiefs head coach Rob Baxter says the decision to not award his side a try in their was 'baffling'.
Richie Baxter went over in the corner towards the end of the first half but the try was not awarded after there was insufficient video evidence.
"It was almost baffling, everybody on this side of the stadium clearly saw it was a try," Baxter said.
"We did everything we could to win it but we came up a little bit short."
"You've got a touch judge this side looking at it that must see it as a try, yet because they go to the official just to double check, and they haven't got the camera angle that shows it, we don't get a try," he added to BBC Radio Devon.
Exeter fly-half Ignacio Mieres missed a drop goal attempt in the final few minutes with the scores level at 17-all before Stade got a late winner through Paul Williams.
Despite the heartbreak in their first ever European knockout match, Baxter was proud of how his players performed.
"We had a real desire to go after the game," he said.
"I'm certainly not going to worry that we lost because the important thing was that we played well and we were a good side.
And Baxter says his side will be stronger for the defeat in Paris.
"You've got to take it on the chin, I'm not going to get frustrated at the little things that went against us.
"What I am going to be is very positive about the good things we did and I'm going to talk to the players about how we drive those good things over and over again and make them happen every week.
"The boys should be immensely proud of what they've done and it's just a marker of what we can do if we really go for things."