Cardiff Blues riled by Lyn Jones over Gavin Henson criticism
Last updated on .From the section Rugby Union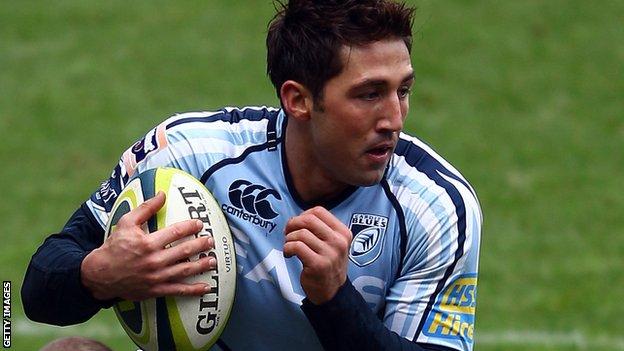 Cardiff Blues chairman Peter Thomas has hit back at criticism over the region's decision to sack Gavin Henson.
Former Ospreys coach Lyn Jones said Henson's dismissal for alcohol-fuelled misbehaviour was "inexcusable".
But Thomas insisted Jones did not have the full facts about the incident and questioned his handling of Henson during their time together at Ospreys.
"He doesn't have a clue, of course," said Thomas. "He just opens his big mouth and speaks too soon."
Jones was among many former players and coaches to condemn the Blues for dismissing Henson on Monday.
The 30-year-old caused a disturbance on a flight as he returned with the rest of the Blues squad from Glasgow to Cardiff.
He apologised for his behaviour, but the Blues decided to end his eight-month contract immediately, saying his conduct was "totally unacceptable".
Henson's playing career has been overshadowed by off-field controversies. One of those came in 2007 when he was at the centre of some critical headlines following a train journey back to Wales from London after a match for the Ospreys, coached at the time by Jones.
And Thomas said: "I will give Lyn Jones food for thought... if he had reprimanded Gavin properly when he had that incident on a train five years ago, then maybe the guy would be a different person today.
"People in glass houses shouldn't throw stones."
Jones, who declined the opportunity to respond to Thomas's criticism, also said the Blues management should be held to account for allowing Henson to drink on the early-morning flight.
Former Wales coach Mike Ruddock felt Henson had been "hung out to dry" and questioned whether a similarly harsh punishment would have been handed out to other Blues players such as Sam Warburton and Jamie Roberts.
Thomas, though, added that the Blues were entirely comfortable with their decision and laid the blame entirely on Henson.
"Our responsibility here is the good name of the Cardiff Blues," he said.
"Sponsors don't want to be associated with teams whose players behave inappropriately.
"Irrespective of who the individual is, if you don't abide by the rules you are not worthy to be part of the set-up.
"I do feel sorry for the boy. But you can't have sentiment in business when there are rules and regulations in place.
"You can't have one rule for one person and one rule for another.
"If any of our players had behaved in this way, the same action would have been taken.
"And if anyone in any other line of business had acted in that fashion, I am sure there would have been the same consequences."
The Blues, who will be losing a host of senior players at the end of the season, face Leinster on Saturday in a Heineken Cup quarter-final in Dublin.