Rory Best claims Ulster want to be Europe's number one
Last updated on .From the section Rugby Union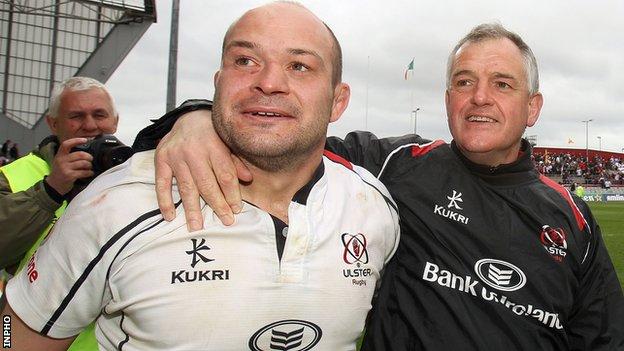 Rory Best claims Ulster have the ambition to be the best team in Europe.
The Ulster hooker says that in order to achieve that aim, they must first conquer their Irish rivals.
"We want to be the best team in Europe and, to do that, you have to start off by being the best team in Ireland.
"Leinster are regarded as the best team in Europe so we knew we had to get ahead of Munster. This is one step but it really means nothing if we can't follow it up."
Best says that in order to prove they had made real progress this season, the Ulster players knew they had to better last year's Heineken Cup quarter-final defeat to Northampton Saints.
"Last year we got to the quarter-finals and in the second half we just didn't perform," he said.
"We talk about trying to get better each year and to get better this year, we had to make the semis as a minimum and we're there now.
"Munster and Leinster have really set the standard over the last 10 years and you could see what it meant to us after the final whistle to beat Munster.
"We certainly believe we are good enough. We have the belief that we have a great team."
Ulster head coach Brian McLaughlin is just as confident that Ulster can go even further in the Heineken Cup this season.
They play Edinburgh in the semi-finals on Saturday April 28 at the Aviva Stadium in Dublin.
"You saw in the first 25 minutes (against Munster) that we fear nobody," McLaughlin said.
"We are capable of playing rugby that's right up there with any side in Europe. We're really starting to eat at that top table as far as European rugby is concerned.
"The self-belief we have is something we've been building over the last three years, building that attitude that we can cope with absolutely everything.
"We won this game because of three years hard work, not just by the coaching staff and management team, but by the senior players.
"This is only the start of the journey as far as we're concerned."
McLaughlin will not be around next season to continue the hard work he has carried out over the past three seasons.
However, he is determined to go out on a high before his successor Mark Anscombe takes over on June 1.
"It's exciting times for us," he said.
"We have a massive game away to Connacht next week in the league and we want to keep fighting on both fronts for as long as we possibly can.
"Edinburgh put in what can only be described as an heroic performance against Toulouse so we know what we have to do when they visit the Aviva in three weeks time.
"I am very proud of what Ulster has achieved so far and this day is one that will live long in my memory for the rest of my life."