Relaunched Rangers could face penalty under SPL proposals
Last updated on .From the section Football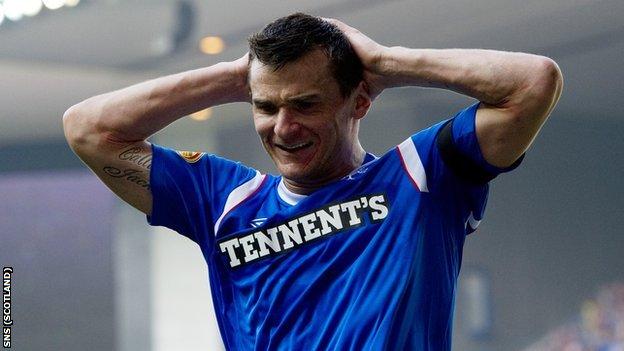 Rangers could start the next two seasons with a 10-point deduction, if they are relaunched as a new company.
The Scottish Premier League will consider new proposals for financial fair play at a meeting on 30 April.
Currently in administration, Rangers face potential liquidation and may transfer their assets to a 'newco'.
Rangers' administrators Duff & Phelps say the announcement of the new proposals has caused "a delay in the sale process".
Under the SPL's new proposals, clubs who enter administration would be docked at least 15 points instead of the current penalty of 10.
If passed, clubs who suffer an insolvency event would incur a penalty of the greater of 15 points or a third of their total of points from the previous season.
Other resolutions to be considered include a requirement for clubs to pay players on time and to report any failure to pay wages "in a timely manner". Failure to both pay wages on time and report it would be breaches of SPL rules.
Clubs would also be required to report any failure to make payments to HM Revenue and Customs in respect of PAYE and National Insurance contributions. Any club suffering such a "default event" would have a player registration embargo imposed and failure to report unpaid PAYE/NIC would breach rules.
Two of the proposals, reducing payments to clubs who transfer their assets to a newco by 75% for three years and clarifying the process of transferring a club's share in the SPL to a newco, require the support of 11 clubs to be passed.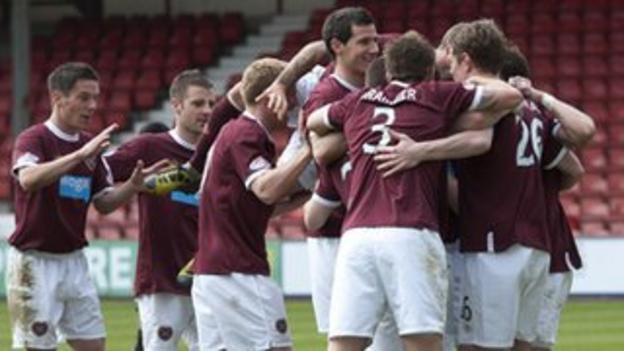 All other resolutions require the support of a minimum of eight clubs.
"If adopted the amendments to the Articles and Rules will have effect from and including 14 May 2012," said an SPL spokesman.
"No further comment will be made in respect of these proposals until after the general meeting on 30 April at which they will be considered by the clubs."
Duff & Phelps have been considering three best and final offers and joint-administrator Paul Clark said: "As administrators we had hoped to announce [on Wednesday] the acceptance in principle of an offer for the purchase of Rangers Football Club, which would be followed by a period of exclusivity while due diligence is undertaken.
"Regrettably, this is not now possible as we were informed over the Easter holiday period that the SPL is proposing to consider at a general meeting on 30 April, significant rule changes in relation to clubs which find themselves in an insolvency situation.
"The effect of such revised measures being considered at this juncture is that we, as administrators are duty bound to inform those parties who have submitted bids of the proposed resolutions the SPL intends to consider. Failure to do so would constitute material non-disclosure on our part, which is a serious matter.
"Inevitably, bidders are now considering this information and will have to take a view as to whether it will affect their individual bids as they now stand.
"We hope to receive feedback from bidders as soon as possible in order for us to take the sale process forward as quickly as we can.
"We fully respect the right of the SPL to review its own rules and regulations and will not comment on the detail of what is being proposed for the meeting on April 30 at this stage.
"However, the fact that such measures are being considered at such a sensitive point in the sale process at Rangers is disruptive and regrettable. We hope to issue a further update by the end of this week."
Meanwhile, Rapid Vienna may appeal to Uefa if Rangers fail to pay the money due for Nikica Jelavic.
The Ibrox club signed the striker in 2010 and agreed to pay the £4m fee in instalments but Rapid are still owed just over £1m.
The Austrian club say they would not agree to a company voluntary arrangement that would guarantee only a fraction of the amount owed for the player, who has since joined Everton.