England's tour of South Africa to include two midweek games
Last updated on .From the section Rugby Union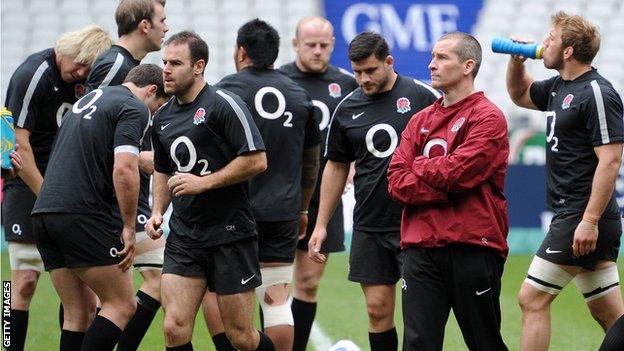 England's three-Test summer tour of South Africa will include two midweek matches against SA Barbarians teams, the Rugby Football Union has confirmed.
They will meet an SA Barbarians South team on 13 June and an SA Barbarians North team six days later.
England tackle the Springboks on 9, 16 and 23 June.
"These five games give us a great opportunity for a wider group of players to put their hat in the ring," said head coach Stuart Lancaster.
The tour is England's first three-Test series in South Africa, which has not hosted a trio of Test matches against a single nation since the visit of New Zealand in 1996.
Lancaster's side will land in South Africa on 31 May before facing the Springboks in Durban's opening Test.
They will meet SA Barbarians South in Kimberley before moving on to Potchefstroom to face SA Barbarians North.
"This will be a massive and exciting challenge for us," added Lancaster, who was named as Martin Johnson's permanent successor last month.
"We were pleased with the progress we made in the Six Nations and this tour is another important step on the journey towards the 2015 World Cup."
Jurie Roux, chief executive of the South African Rugby Union, believes England's tour will be a "special" occasion.
"I think all rugby fans will be excited by the idea of having England on tour in South Africa for five matches over three weeks," he said.