Gloucester threaten Sale over Bryan Redpath's departure
Last updated on .From the section Rugby Union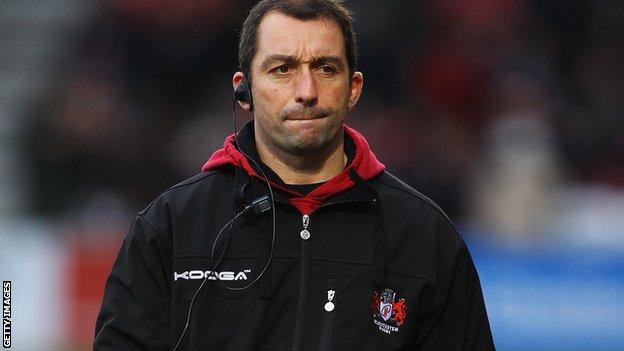 Gloucester have insisted they will begin a "legal attack" against Sale if they discover an approach from the Sharks was behind Bryan Redpath's exit.
Gloucester chairman Ryan Walkinshaw clarified their position on Twitter.
"If we find evidence to increase our suspicions that Sale have manufactured this we'll fight back with a no holds barred legal attack," he said.
Redpath walked away from Kingsholm following four consecutive defeats in the Premiership, which has left them seventh in the table.
He still had two years remaining on his contract and his assistant Carl Hogg will now take charge of the final two games of the season, the first coming against Sale on Saturday.
The Sharks currently occupy sixth in the standings - the final Heineken Cup qualification place - and have been without a coach since Tony Hanks' sacking last month.
Following Redpath's decision to leave, Walkinshaw tweeted: "Hardest three days so far in the job. Thanks to Brush [Redpath] for all he did. Now time to find the guy to bring our awesome squad to future glory.
"The players and the fans deserve a top level coach who will utilise the exciting squad we have to their maximum potential."
Sale have chosen not to comment specifically about Walkinshaw's remarks, but have confirmed that they are still interviewing candidates for the vacant director of rugby role.