Blackheath extend their winning run to nine games
Last updated on .From the section Rugby Union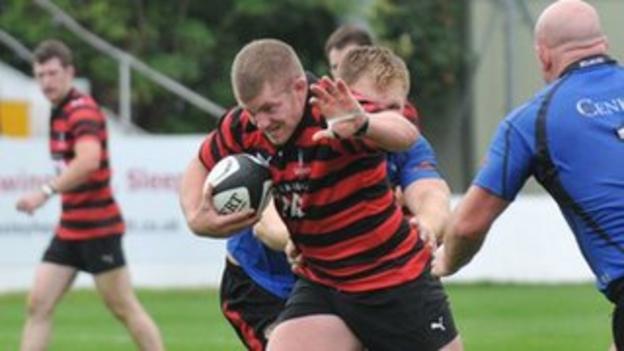 Blackheath have made club history by winning nine league games in a row.
Their 59-22 win over Fylde in National League One means the club have achieved the longest winning run since league rugby was introduced.
Vice-captain Richard Windsor told BBC Radio Kent: "We had a bit of a stunned look on our faces, we have two games to go and let's look to extend that.
"It was a litmus test against a higher-placed side but we stood up to the challenge," he added.
"The confidence is there, but we have the balance right about where we attack, it's second nature when it's time to spin it out and when it's time to keep it in. But this club is something special," said Windsor.
"It's a family culture, we put our bodies on the line and that is the key to this awesome winning streak."
Elsewhere Westcombe Park have kept alive their chances of avoiding relegation from National League Two South with a 29-28 win over Clifton, while Tonbridge Juddians are two games away from securing their fourth straight promotion.
If Judds beat Ampthill on Saturday they will qualify for the National League Three South East play-offs for a place in National League Two next season.