Jeremy Guscott Q&A

By Jeremy Guscott
Rugby union analyst, BBC Sport
Last updated on .From the section Rugby Union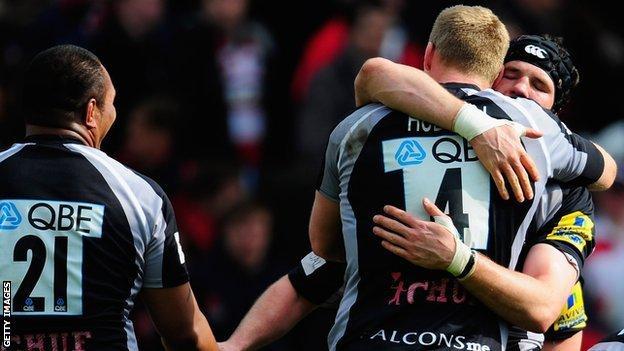 Among the topics the former England and Lions centre discusses this week are:
- Whether bottom side Newcastle can complete an unlikely escape from Premiership relegation
- Whether or not the play-off system is fair
- Northampton's lack of a "commander" to take them to the next level
- Toby Flood's chances of regaining the England number 10 shirt from Owen Farrell
Jerry will answer as many of your questions as possible each week but not every question submitted can be used. This week's answers appear below.
Is there any chance you think Newcastle will stay in the Premiership? Tarack, England
Hi Tarack, a few weeks ago I said it was very, very unlikely but the Falcons are having a go and it's great to see. I believe Wasps have more of a chance of winning against Bath than Falcons against Sarries at the weekend, but who would have believed Falcons would win away against Gloucester? I have to say it's very unlikely that Falcons will survive.
Harlequins seem likely to top the Premiership table, but Leicester are in the best form of the top four and will be odds-on favourites to win the play-offs. Do you think the play-off system is fair when it seems to reward sides for peaking at the right time? Joe, UK
Hi Joe, all teams are in the same position and know what's coming, so all should be looking to be in good form when it counts. The exception would be if they are hit by injuries, no team can predict those, so there's a bit of luck and good timing required.
The play-offs have been around for a while and most clubs seem happy. A part of me still thinks the true champions should be measured on the regular season - finish top and you're champions - but time moves on!
Given the number of players already announced as leaving Northampton Saints, coupled with the team's recent inability to win "big games", who do you feel Jim Mallinder and co should be looking to recruit in order to boost/strengthen the squad for next season? It seems as though all of the available players that would fit into the squad nicely (eg Jonathan Davies, Ben Morgan) are either re-signing with their clubs or signing for someone else! Chris Pritchard, England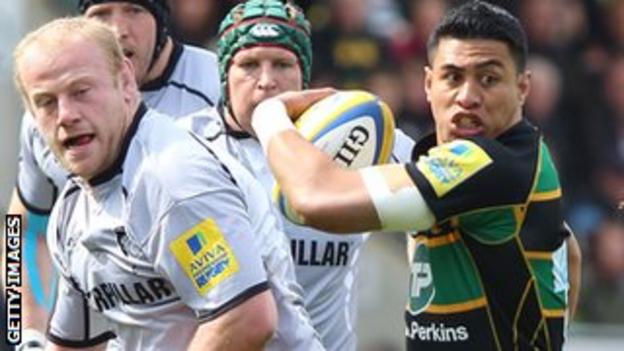 Hi Chris, Saints still lack a consistent general at fly-half. Without a commander who consistently plays well they will struggle to regularly beat Sarries, Tigers and Quins, but the play-offs are knock-out rugby and they will have a chance.
Saints probably have enough in the budget with England winger Chris Ashton leaving to sign a big name but, as you say, a lot have been snapped up already. Saints definitely need to plug the gap James Downey will leave in the centres, as George Pisi won't be able to do it all on his own. If I were Jim Mallinder I would be asking George if he knows any quality centres who would like to live in Northampton.
After Sale's victory over Bath, they only need to beat Gloucester to ensure Heineken Cup qualification. Do you think that Steve Diamond can turn Sale into a northern "super club"? Also, who would you suggest as the director of rugby to achieve this? Nathan Astbury, England
Hi Nathan, Gloucester away is a big ask and despite the loss of Bryan Redpath Gloucester will be all out for the victory after crashing to Newcastle last week. Steve Diamond is certainly going about refreshing Sale, he's already made big signings with more on the way.
I have absolutely no idea who would be the best fit for Diamond and Sale, the talk in the media is Redpath, but I thought they would have gone with someone with a higher profile - but maybe Diamond doesn't want that?
One thing for sure is that Diamond came with a plan and is going about implementing it in quick fashion, which so far is impressive. If Sale secure Heineken Cup qualification for next season he, his coaches and the team have done well.
I can't help but think that Saracens are never going to reach their full potential without a cutting edge at centre alongside Brad Barritt (while utilising Owen Farrell more at 10). They spent a lot of money on Joel Tomkins recently... will he be the answer next season or do Sarries need to invest in a top-class attacking centre? Matt, UK
Hi Matt, unfortunately for you and Sarries only time will tell, Tomkins certainly appears to have the skills, I hope he gets more opportunities.
Barritt had a decent introduction with England in this Six Nations, but with the form of Jordan Turner-Hall and the ongoing form of Anthony Allen, do you feel he's the best option at 12? Malcolm Bradbrook, UK
Hi Malcolm, personally I think Barritt fulfils a role of stopping the opposition at the gainline and carrying ball over the gainline - he's certainly not creative. He did what he does for Saracens for England and that's all Lancaster can ask of him.
Turner-Hall needs to continue his form for the rest of the season, get on the tour and play himself in, although I think it will be difficult unless he plays out of his skin. If it's a Quins v Sarries final he has the ideal platform to show why he should be in.
Personally I think Allen is going to find it hard to play regularly for England again, but if he plays very well consistently and takes apart the opposition centres he will push his case for inclusion.
Jeremy, do you think it's fair that some of the Pro 12 teams are guaranteed a place in next year's Heineken Cup, while French and English teams have to battle it out in their very competitive leagues? Rob, UK
Hi Rob, yes I do. France and England have the bigger numbers playing the game - the others have relatively small numbers so there's a disadvantage there for the Pro 12 teams. This season England and France had 13 teams, while Ireland, Scotland, Italy and Wales had 11 teams between them, that looks to be advantage England and France to me.
Following on from Andy Farrell turning down the chance to become England's attack coach, who would you choose as your first choice now? After four consecutive bonus point wins, and a lot of praise from Richard Cockerill, could you see Matt O'Connor of Leicester Tigers being considered for the role? Ed, England
Hi Ed, long term I hope England get former All Blacks assistant coach Wayne Smith, his international experience would be invaluable. I hope he would be a strong enough figure to upset the apple cart and get more time with the team than forwards coach Graham Rowntree or the defence coach because England need to learn how to attack. Tigers score a lot of tries and O'Connor deserves praise and could be a good shout. Short term for the tour of South Africa this summer, Mike Catt or Brian Ashton would do the job.
With the recent performances of Toby Flood for Leicester, can you see him starring for England at fly-half during the South Africa tour in a similar manner? Or will Owen Farrell continue to keep him on the sideline? Jake, England
Hi Jake, the way it goes is the man in possession generally has to have a shocker to lose his place. If you are playing at 10 and kicking penalties and the team loses, then you'll come under pressure, so Flood will get his chance again, but for now Farrell deserves his place 100%.
Jeremy, Exeter currently lie fourth in the Premiership. Why do they have so little coverage in the media and how can they achieve such a position with few internationals, and no England players? (Sure, they have two Argentines, a Fijian and a Welsh international). Why are they so well-placed yet apparently under-recognised? Martin S, UK
Hi Martin S, within the Premiership Exeter are far from under-recognised, every team has them firmly on their radar. Good coaching, hard work and a togetherness has got them to where they are now, the whole club from the chairman to the groundsman deserve credit for where the Chiefs currently are. They don't get the recognition because they are not an established Premiership team, if the Chiefs are doing in 10 years' time what they are doing now, they will be given plenty of credit.
With the injury suffered by coach Warren Gatland when he fell off a ladder, do you think that Wales will struggle on this summer's tour to Australia? Or do you think that Rob Howley and Sean Edwards should be enough to lead them to a Test series victory? Moses, England
Hi Moses, not having the presence and direction of Gatland up close and personal will be a big change but for a short tour Howley and Edwards, with the assistance of the team leaders, will be enough for them to cope.
Why not also follow Jerry on Twitter?