RFU must publish World Cup mole report - Damian Hopley
Last updated on .From the section Rugby Union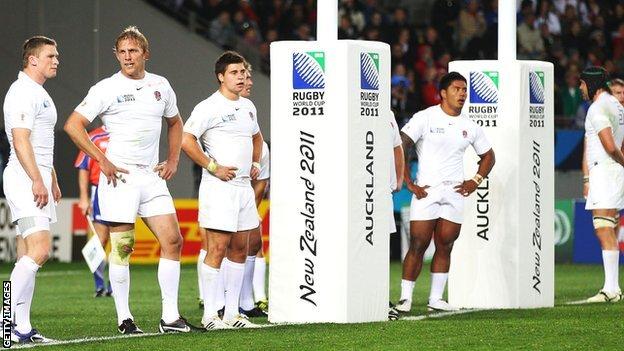 The Rugby Football Union should publish the report investigating who was the mole that leaked confidential reviews into England's performance at the World Cup, says players' chief Damian Hopley.
The Rugby Players' Association's (RPA) review was one of three leaked.
Hopley claims one individual refused to co-operate with the investigation.
"That [the person's identity] is within the report. If the report was made public it would go a long way to resolving that problem," said Hopley.
"We would like that person to come forward and be interviewed."
Hopley, who is chief executive of the RPA, says that, of the 25 people in the union who had access to the reports, 24 agreed to be interviewed as part of the investigation.
The RPA report, described by Hopley as "a powderkeg", contained player feedback stating Martin Johnson's management team were out of their depth and painting the picture of a disunited squad, riven by a lack of trust and competing agendas.
The investigation into who leaked it, along with reviews by the RFU and the Premiership clubs, has been undertaken on the RFU's behalf by strategic intelligence company Monitor Quest.
The leadership of the RFU has changed since the investigation was launched and Hopley said: "We do not point the finger at the new executive because we know they weren't involved.
"We just feel there should be some leadership here, we feel let down by the process."
Hopley said the fact that "no-one has been brought to book" over the leak is adding to the damage caused by the initial breach of confidence.
"I described it at the time and I still maintain it was the darkest day for the organisation (RPA) and for English rugby, to see confidential information leaked over the press," Hopley added.
"There is a responsibility for the game to actually understand what went on and for the facts to come out.
"The Monitor Quest report has not been made public, we believe it should be made public."