Guernsey title win delights coach Jordan Reynolds
Last updated on .From the section Rugby Union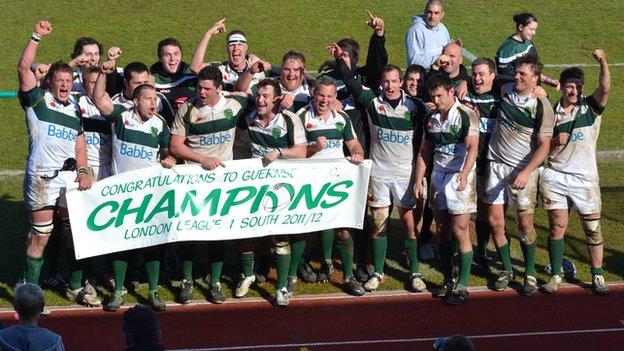 Coach Jordan Reynolds hailed Guernsey's work ethic after a 39-0 win over Hove secured the London South One title.
The victory, their 18th in a row, left the island side three points clear of Old Elthamians at the top of the table.
They ran in eight tries and will play in National Three London South East next season.
"Everything that we've worked for has paid off," said Reynolds, who told BBC Guernsey that his side had done 126 training sessions during the season.
"When you get to the end of the season, if we hadn't achieved that, they could have asked questions (about) if it was worth it or not, but they'll say it was worth it now."
Cameron Crane got the opening try before Luke Jones added a second to make it 12-0 at half-time.
Jason Batiste crossed in the second half along with Robin Le Cocq, Layton Batiste, Nick Barton, Sam Stables and Sam Stevens to seal the win.
However, Guernsey skipper Blair Campbell afterwards said they still had one more important match to play this season - the annual Siam Cup fixture with Jersey, who were promoted to the Championship at the weekend.
"We've got a little matter of the Siam Cup in a couple of weeks, so on Tuesday and Wednesday we'll knuckle down again and try and get ready for the Siam."