Cardiff Blues ponder permanent home venue
Last updated on .From the section Rugby Union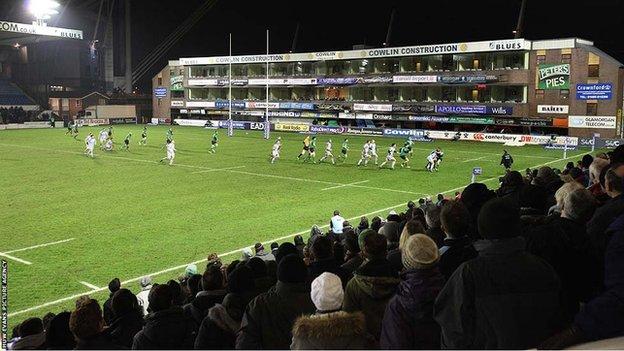 Cardiff Blues are considering whether to play all their games at Cardiff City Stadium, the Arms Park or a combination of both in the future.
The region confirmed to BBC Sport Wales that their board is considering the three options.
Amid poor crowds and financial problems, the Blues switched two Pro12 games there this season.
A Blues spokesman confirmed: "We are looking at three options [ahead of the 2012-13 season."
Tom Shanklin, the former Blues and Wales centre, who retired last season, has backed for calls for his former side to return to the Arms Park.
"The new director of rugby, whoever it is, needs to build a bit more of a team atmosphere," said Shanklin.
"They need to get that confidence back and for me the best way to do that is to get back to the Arms Park."
The Blues are tied to a 20-year contract to play a maximum of 18 games per season for a set fee rather than per match at Cardiff City Stadium, where attendances have dropped this season.
The Blues abandoned the traditional Arms Park home of Cardiff rugby in 2009 when they signed a 20-year agreement to play their home games at Cardiff City Stadium.
Having initially attracted average crowds of between 10,000 and 11,000, attendances have dropped significantly this season, with an all-time low of 2,093 watching the LV= Cup match against Harlequins on 5 February.
When Richard Holland took over as chief executive in January, he dismissed the idea of leaving the stadium, stressing his brief was to "make it work at Cardiff City Stadium, full stop".