Esher RFC president says club will cope with relegation
Last updated on .From the section Rugby Union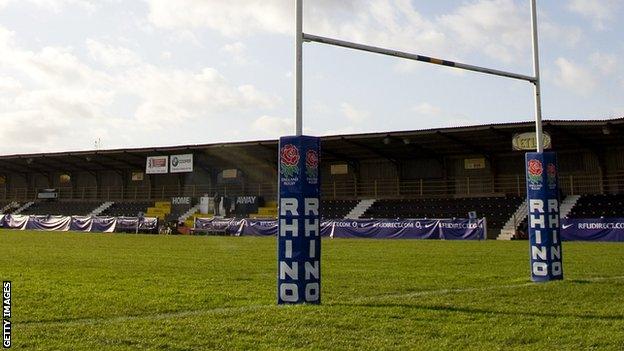 Esher president Ross Howard says the club will be able to deal with relegation from the Championship.
The Surrey side face a reduction in funding from the Rugby Football Union in National League One next season.
He told BBC Surrey: "Esher will not be in a situation where we feel uncomfortable but there are financial issues we have to look at.
"There is a huge difference in funding. It's a very large drop, more than significant. We'll have to cope."
Howard added: "Those are the rules and we know them.
"The crowds will not suffer but we will have to look at the overall cost of what is a business.
"We will match our expenditure to what our income can be."
Esher had spent the last two seasons in the second tier after winning the National League One title in 2010.
Despite only four wins in the regular league season and two in the relegation pool matches, Howard expects to retain the services of head coach Mike Schmid for the new campaign.
"We would like to keep Mike at the club," he continued. "We're in discussions with him.
"He's an integral part of what we are doing.
"There are economic issues but I'd be surprised if he was not with us for next season."