Jeremy Guscott Q&A

By Jeremy Guscott
Rugby union analyst, BBC Sport
Last updated on .From the section Rugby Union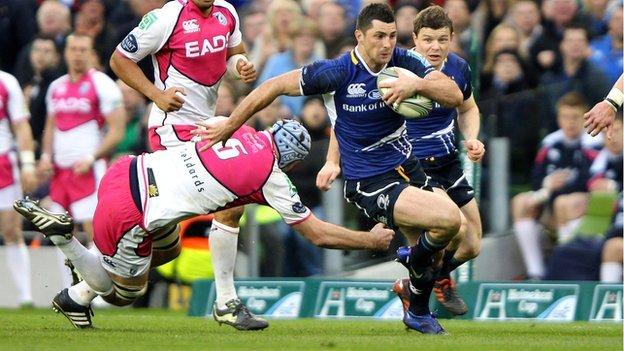 Among the topics the former England and Lions centre discusses this week are:
- Who will win the Heineken Cup semi-finals
- How Sam Vesty will be feeling after his embarrassing premature try celebration against Wasps
- Whether Wales should give George North a run in the centres
- What he makes of World Cup-winning New Zealand coach Graham Henry's comments about England
Jerry will answer as many of your questions as possible each week but not every question submitted can be used. This week's answers appear below.
Jeremy, surely the four best teams in the UK, France and Ireland should be top billing for conversations this week? So, who will be in the Heineken Cup final? Peter, Ireland
Hi Peter, both semis are pretty tough to call but there are favourites in each tie. Ulster will be favourites to beat Edinburgh and champions Leinster, because of their record in the Heineken Cup, will be favourites against Clermont. I think this year's champions will come from the winner of the Clermont v Leinster match and I fancy Clermont to edge it and go on to win the competition.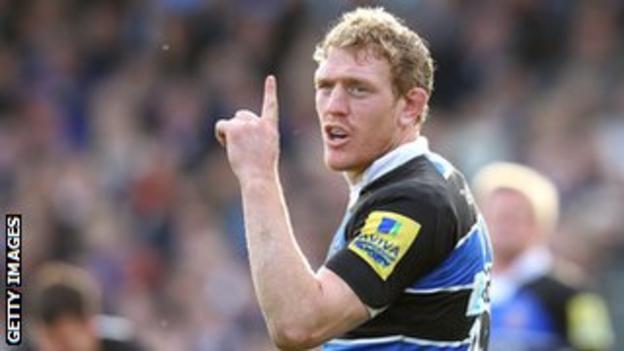 When will players learn that it is OK to showboat, but it should be in moderation and preferably always AFTER they have scored. The howler by Bath's Sam Vesty at the weekend (when he was prevented from scoring by Wasps winger Tom Varndell after celebrating prematurely) should be shown to rugby players of all ages on how not to get egg on your face... Angie, England
Hi Angie, every player knows how to score a try, it's what you always wanted to do as a kid, that and kick the ball over the crossbar. As you get into the game and take it a bit more seriously you're taught how to score properly and always the message is "protect the ball in the act of scoring".
While it wasn't very clever of Vesty to celebrate before scoring it was a brilliant tackle from Varndell. Let me assure you, Vesty, and any other players around the world that it has happened to, will never be allowed to forget what happened.
Their team-mates and the supporters will remind them often enough of what took place. It should be enough embarrassment for any player to prevent him or any other player doing it again, but it will happen once more because it's human nature.
Hi Jerry, do you think Newcastle can do the impossible and beat the drop against Wasps? Aaron, UK
Hi Jeremy, as a Wasps fan, should I really be worried that Newcastle can score four tries against us in our own back yard? Their gameplan doesn't really advocate running rugby... Hugh, UK
Hi Hugh and Aaron, nothing in sport is impossible but it can certainly look that way at times, and there's no doubt it's looking impossible that Newcastle will avoid relegation. The Falcons could win by 24 points and score four tries in the process but going on what we've seen for most of the season it's unlikely to happen and I believe Wasps will win at home.
All this talk of a "relegation decider" betwixt Newcastle and Wasps misses the point somewhat when three of the four Championship semi-finalists are denied a place in the Premiership anyhow, by virtue of criteria that in effect protect the "elite" from failure.
Maybe the time has come to relax this ring-fencing by stealth, and allow the BEST team in the Championship to progress on merit; with the caveat that they have 'x' number of seasons to upgrade their facilities to a more realistic benchmark? Martin Woollatt, Cornwall
Hi Martin, I haven't got long enough to explain in this Q&A but I'm actually against relegation full stop because I feel it's stunted the English game and the national team to a point where there is very little development of teams and players, particularly in terms of the good young English players coming through.
I was an advocate of relegation before but have changed my mind, I know it's not a popular choice but it's the only sensible one if England are to benefit from their own league.
With so many top English players moving to France, do you feel the Rugby Football Union (RFU) should change their selection policy towards those who leave this country, it seems a shame that players like Toulon flanker Steffon Armitage are being ignored, despite their fantastic performances. Steve, England
Hi Steve, the RFU policy on selection of English qualified players playing overseas only exists in writing, not reality. In the unlikely event of Owen Farrell, Ben Youngs, Manu Tuilagi and the currently injured Tom Wood playing in France, providing they continued to play well, they would still be selected for England.
What any current England player does risk if they go to France is another player playing well in their position and being seen a lot more by the selectors in the Premiership. Most current English internationals are rewarded sufficiently well not to want to go abroad, it's when they get a bit older, after a few caps and maybe a bit of rejection, that the lure of the Euro becomes more difficult to refuse.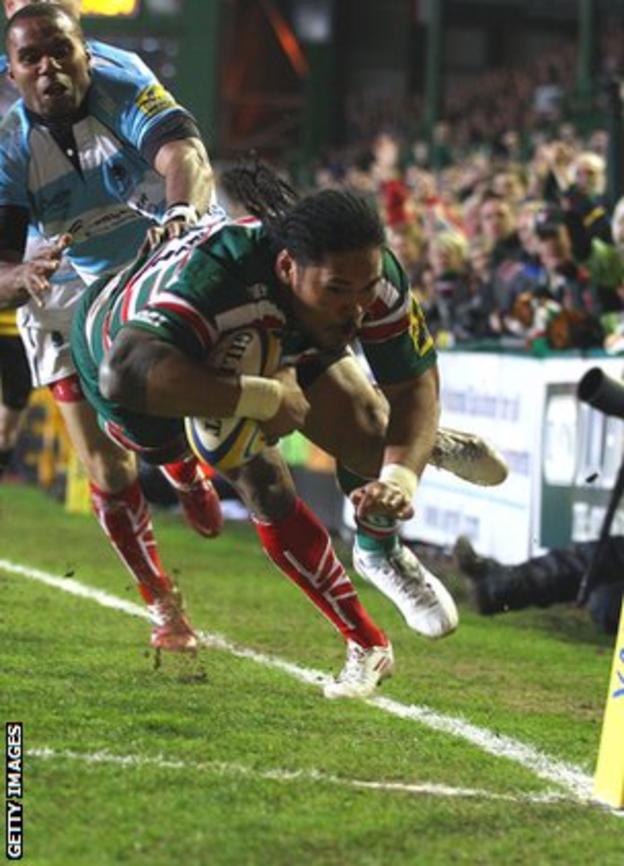 What are your thoughts on Samoa winger Alesana Tuilagi's time with Leicester, his role in their success and how Leicester will seek to replace him? Joshua, England
Hi Joshua, Alesana has been a class act during his eight years with Tigers, a hugely influential player in attack and defence who rarely had a bad game. Leicester are reportedly signing Worcester winger Miles Benjamin, presumably in some part to fill Tuilagi's big shoes.
Hi Jerry, how important for the long term aims of Steve Diamond and Sale do you think getting (in all likelihood) into the Heineken Cup is for next season? And do you believe Sale will be challenging for the league play-off places in the next few seasons? Freddie Lawder, UK
Hi Freddie, it's looking good for Sharks to qualify for European rugby next season as they are five points ahead of Bath, who have a difficult away game to finish. The Heineken Cup is a very tough competition for English clubs to compete in while at the same time keeping competitive in the domestic league and that will be Diamond's challenge, because to build a squad strong enough and large enough within the constraints of the current salary cap is hard.
The future currently looks good but you've seen it before at Sharks - it wasn't sustained. Hopefully under Diamond it will be.
Hi Jeremy, I watched Sarries' game on Friday and they looked below par despite the win, can you see them retaining the title? Ross Bowser, England
Hi Ross, Sarries could retain their title but when they play against sides that compete hard with their forwards and achieve parity or more, the Londoners struggle to then be effective because they aren't too attack orientated and find it difficult to create chances.
Last season it worked for them and took them to the title but they don't seem to have developed further. That's not to say they can't win it again, I just think it will be harder for them to do so. It looks as though Sarries will play Tigers or Quins away in the semis and at the moment those teams would be favourites on current form.
Hi Jeremy, it would be nice to see you talk about Worcester one week!!! What can Worcester be doing better next season? How have Exeter achieved so much, while Worcester have not achieved over the years despite fantastic facilities, great, loyal supporters and good financial backing. Bertie, England
Hi Bertie, normally I would say it would have something to do with the culture of the place but with Worcester I don't think they've had the quality of players to be above where they have finished.
Like you say the facilities are top class, as are the supporters, but whoever has coached them has found it difficult to move the club out of the bottom tier. Some top players have been there and yet that hasn't quite been enough. Exeter with their squad are the exception, not the rule.
What has gone wrong at Bath and how can it be changed to make them a force again? Ian Burfitt, England
Hi Ian, I've said many times this season that Bath have a squad of players that at best are a mid-table team. Quite simply they have been inconsistent, haven't looked as well conditioned as the top teams and have lacked a real hard edge up front, particularly in the front row.
Your league position is a fair reflection of how you have performed throughout the season (unless you have had a lot of injuries like Wasps). Without doubt there is potential within the squad to do better, with players like Francois Louw, Simon Taylor, David Wilson, Dave Attwood, Stephen Donald (when fit), Olly Barkley, Matt Banahan and Nick Abendanon there are the foundations of a good team.
For Bath to challenge for honours they need their better players to play well more consistently and add a few more quality players.
Jeremy, what do you make of World Cup-winning New Zealand coach Graham Henry's recent comments about England rugby players being "smarmy" and "the height of arrogance"? Marc Willmott, UK
Hi Marc, I understand Henry made those remarks at a charity dinner and was poking fun at England. Under those circumstances we shouldn't take them seriously.
Hi Jerry. With the injuries to Jamie Roberts and Jonathan Davies, I can't help but feel that this is a huge chance for Wales to improve. What a great opportunity to play Scott Williams and George North in the centre positions and Leigh Halfpenny and Alex Cuthbert on both wings! I just feel that this combination would be stronger than the Grand Slam winning team. What are your thoughts? Alan
With Davies being out for the rest of the season and Roberts having surgery, can you see one of the big wingers (North, Cuthbert) coming in as a centre to play the Baa-Baas and Australia? Or would you give Ashley Beck a run in the team? It will be good to see Scott Williams getting a run in the team =)Dews, Wales
Hi Alan and Dews, most players who have come into the Wales team over the last couple of seasons because of injuries have performed really well and I wouldn't expect anything different with the guys coming in to replace Roberts and Davies.
I do think it's a big ask for a winger to come in and play as an international centre but like you say they could try Cuthbert or North. Scott Williams will definitely play and Beck is another youngster who probably deserves a go. I think an experiment with North is worth a chance against the Baa-Baas.
Why not also follow Jerry on Twitter?