Newport Gwent Dragons resist downgrading threat
Last updated on .From the section Rugby Union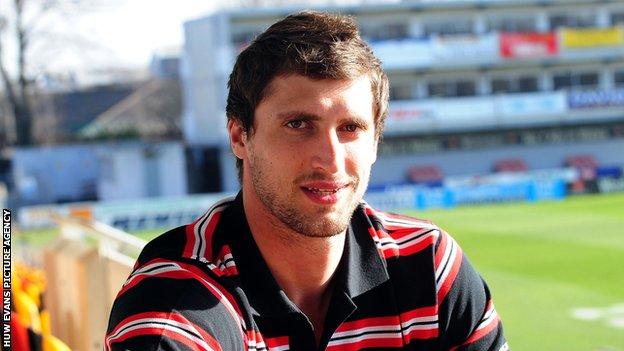 Newport Gwent Dragons chief executive Chris Brown will resist any moves to make them a development region.
The region has announced a business plan following a two month audit coinciding with a review of professional rugby in Wales.
And Brown insists they do not want to be downgraded in the current review of Welsh regional rugby.
"That's something we'd have a problem with. It would be a problem in that it is an important region," said Brown.
"It has important clubs feeding into it and we know in terms of having a commercial entity going forward it's important we are on a par [with the other regions].
"When you look at our international players, if that's one of the key measures from their point of view, then we actually do deliver."
The Dragons and the other Welsh regions - Cardiff Blues, Scarlets and the Ospreys - have announced a salary cap of £3.5m which will begin at the start of next season.
The four regions are awaiting the findings of a financial review, commissioned by the Welsh Rugby Union, which is being undertaken by accountancy firm PricewaterhouseCoopers.
"I expect it to indicate that the problems in the four Welsh regions are all slightly different," added Brown.
"From that point of view there isn't an absolute solution to fit all. It will be useful if it knocks people's heads together a bit and gets us round a table."
The Dragons will release eight players at the end of the current season while Luke Charteris and Aled Brew will be joining French clubs and Jason Tovey switching to Cardiff Blues.
And former skipper Tom Willis, prop Ben Castle and hooker Lloyd Burns have already been forced to retire due to injury.
But Brown believes the Dragons can develop a better squad next season out of a similar playing budget to the current campaign.
"We have to improve the product on the pitch. We're aware that this season the product on the pitch has not been where we would like it to be," said Brown.
"We've been discussing that. We shall be making some new signings and we look to strengthening our teams.
"In some areas salary expectations are falling and indeed we've lost some of our more expensive players in the last season."