Former Sale winger Steve Hanley does not regret retirement
Last updated on .From the section Rugby Union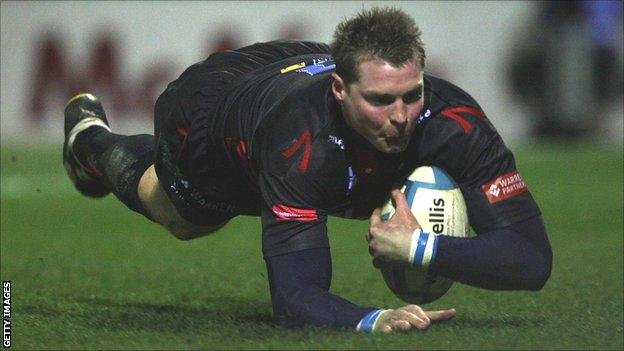 Former Sale Sharks and England winger Steve Hanley has said he does not regret his decision to retire from rugby in 2008 because of injury.
Hanley quit the sport on medical advice at the age of 29 after failing to recover from a back problem.
"I'd got mates who had hung on through injury and would be in serious pain for the rest of their life," he told BBC Radio Manchester's In the Spotlight.
"I'd just had my little daughter and that made the decision a lot easier."
He continued: "The surgeon told me that, with the injury I had, I would be pain-free at some point in my life.
"But he also said that if I took one more knock on it, he wasn't talking about being in a wheelchair or anything like that, but he said I could be in pain for the rest of my life.
Hanley, now 32, first suffered the injury in a European tie against Bayonne in December 2007 and, after months of painful rehabilitation, finally admitted defeat in the battle to return to action in the summer of 2008.
"For the next four or five months, I was having real problems," he added. "I was doing everything I could to not have an operation on my spinal column. Messing around with that is the last thing you want to do.
"It was getting to points where I couldn't even lie in bed. I was walking around the house at 2am.
"I had a few hiccups with my operation and I ended up having a couple more than I should, and then I could only get myself back to 90% fitness."
Hanley, who now works in the commercial department at Sale, won his only England cap in 1999 in a Five Nations match against Wales and still heads the list of all-time Premiership try scorers, with 75 in 135 appearances for the Sharks.
However, that record is likely to be surpassed in the near future by former team-mate Mark Cueto, who lies two tries behind on 73.
You can hear the full "In the Spotlight" interview with Steve Hanley on BBC Radio Manchester from 1800 BST on Thursday, 26 April and online from Friday.