Jeremy Guscott on final round of Premiership games
Last updated on .From the section Rugby Union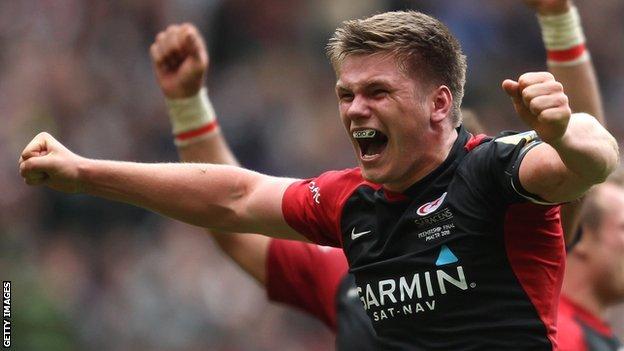 There is all to play for going into Saturday's final round of regular season Premiership fixtures.
Semi-final play-off places, Heineken Cup spots and survival - perhaps literally in Wasps' case - are all up for grabs.
Here BBC Sport explains just what is at stake, while England and Lions legend Jeremy Guscott predicts what might happen.
Leicester v Bath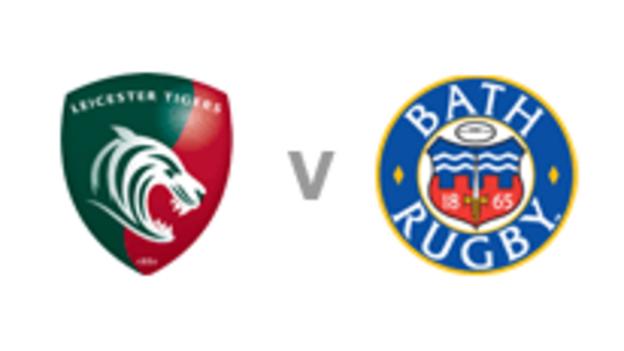 What's at stake? For Leicester a home semi-final in the play-offs, and also potentially the honour of topping the regular season table for the fourth year in a row. The Tigers have reached the past seven Premiership finals, losing last year to Saracens.
For Bath there remains a mathematical chance of reaching the top six and securing a Heineken Cup spot, but they would have to beat Leicester with a bonus point and hope Sale get nothing from their game at home to Quins.
As things stand: Leicester go into the game in second place after beating leaders Quins in their last outing. They are one point behind the Londoners and two points clear of third-placed Saracens.
Bath are seventh, five points behind Sale, and need to run Tigers ragged at Welford Road.
Jerry's view: This a must-win game for Tigers to make sure of a top two finish, while Bath's players will want a big performance to impress whoever is coming in to replace departing boss Sir Ian McGeechan.
Tigers will be hoping to sign off the regular season in style and, with the likes of Ben Youngs and Toby Flood looking to impress Stuart Lancaster with the South Africa tour fast approaching, I expect them to win with some ease.
Jerry's verdict: Leicester to win by more than 10 points.
Preview: Leicester v Bath
London Irish v Gloucester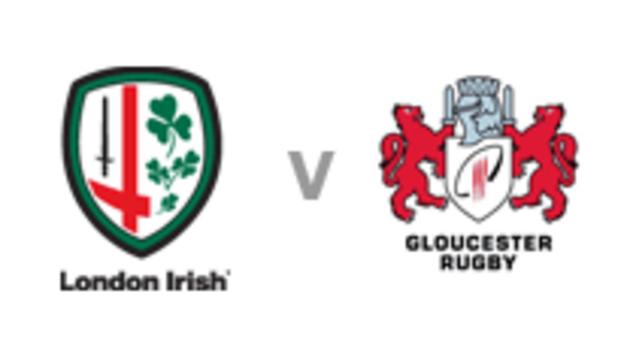 What's at stake?
Absolutely nothing - this is the game with the least interest on the final weekend.
Five defeats in a row have derailed Gloucester's Premiership campaign and, after a seven-match losing streak, which only ended last time out, London Irish also have nothing to play for but pride.
As things stand:
With two fewer wins than Sale, eighth-placed Gloucester cannot overhaul the Sharks for sixth spot - the final Heineken Cup place - even if they were to win with a bonus point.
London Irish are three points and one place below their visitors. With Brian Smith back as Exiles boss, they will already be thinking about next season.
Jerry's view: Irish have had a pretty average season with periods of bad runs of results. Given their squad it's difficult to put a finger on the reason but I get the feeling that the uncertainty surrounding the club, with players leaving, talk of coaches leaving and Smith coming back, have all contributed.
Gloucester for me have been big under-achievers given their backline; it's so talented yet inconsistent. But when it clicks the rest need to look out and they will win on Saturday.
Jerry's prediction: Gloucester to win by seven points or more.
Preview:London Irish v Gloucester
Northampton v Worcester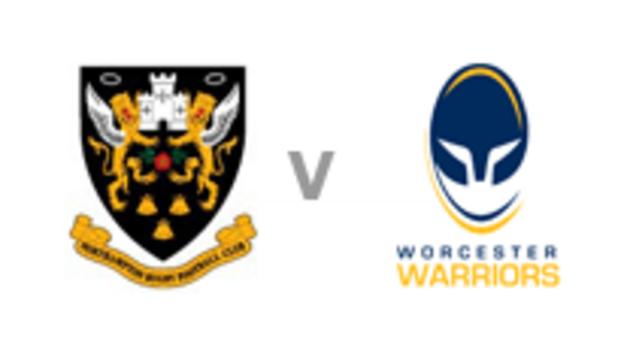 What's at stake?
This is an absolutely vital match for Northampton, who breathed new life into their faltering season with victory away to play-off rivals Exeter last time out to move above the Chiefs.
Worcester, promoted at the start of the season, are safe from relegation and they'll probably settle for that.
As things stand:
Saints go into the game in fourth place but unable to secure one of the two top spots, which would have brought a home semi-final.
They are one point clear of Exeter and have a far superior points difference, so any win over 10th-placed Worcester will send them into the play-offs.
Jerry's view: Saints would have had big aspirations to do well in all competitions this year so given the position they find themselves in they will be disappointed - although going on to win the title would wash away the negatives. The bad feeling between the club and Saracens-bound wing Chris Ashton earlier in the season didn't help matters and the bans for Dylan Hartley and Calum Clark have put the squad in a bad light.
Warriors have survived but they need to get going in the top flight, like Exeter have managed. Next season is a big one for them and player recruitment will be very important.
Jerry's prediction: Northampton to win by more than 10 points and reach the play-offs.
Preview:Northampton v Worcester
Sale v Harlequins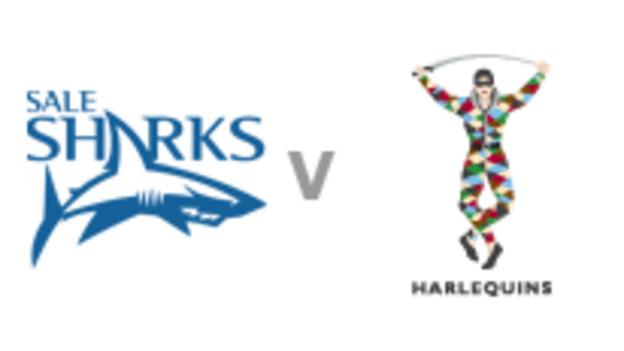 What's at stake?
Harlequins have led the table for the vast majority of the season but defeat here could see them ending the regular season in third - and facing an away semi-final.
A point would be enough to see revitalised Sale finish in sixth place and ensure they qualify for next season's Heineken Cup.
As things stand:
This could get complicated. Harlequins lead by a point from Leicester with champions Saracens two points further back. Victory guarantees Quins finish top as they have won two games more than Leicester, so even a bonus-point win would not be enough for the Tigers.
But defeat without a bonus point and wins for both Saracens and Leicester would seem Quins forced to hit the road in the play-offs.
Defeat with a bonus point, while Sarries win without one, and they would lose out to the champions on points difference.
Sixth-placed Sale are currently five points clear of Bath but they have a far worse points difference, so they need something to ensure they remain in control of their future.
Jerry's view: Sale have all but qualified for the Heineken Cup next season which is an outstanding achievement considering they finished 10th last time. Full-back Rob Miller has been one of the outstanding players of the season, along with Nick Macleod at fly-half.
Quins have been so good this season - it's been a pleasure to watch them at times and they deserve their place at the top. I'm all for ambitious rugby, Quins epitomise that and I hope they do themselves justice in the play-offs. I think Quins will need a bonus-point win to remain top and that is achievable given the amount of tries Sharks have leaked this season.
Jerry's verdict: Harlequins to secure a bonus-point victory and top the table.
Preview:Sale v Harlequins
Saracens v Exeter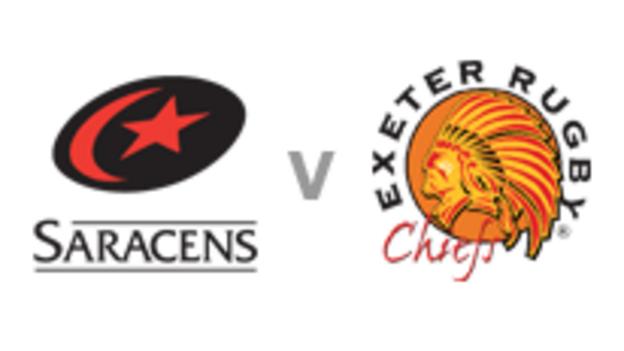 What's at stake?
Defending champions Saracens may have been overhauled by the Leicester juggernaut and slipped to third but the Londoners have still got a shot at a top-two place and a home semi.
Exeter have plenty to play for as well. European qualification is already safely in the bag, but a play-off place of their own is not out of the question - not bad for only their second season in the top flight.
As things stand:
Sarries are third, two points behind Leicester and three behind leaders Quins. If they win and either of the top two lose, a home semi is in the bag.
Their points difference is also better - just - than Quins, so a losing bonus point will be no good for the men from the Stoop if Sarries win.
Exeter are one point behind Northampton, who occupy the final play-off place, and they will go down swinging.
Jerry's view: It looks to me as though Sarries have been worked out this year. You can never write off a strong, predictable team, especially in the wet conditions we are experiencing at the moment, but they will have to play a different type of game to get the bonus-point win, and I'm not sure they are capable of that at the moment.
Exeter must be in line for team of the year. I'm just hoping they will be up for the challenge, having run Sarries close at home back in September, and are not already in holiday mode.
Jerry's prediction: Saracens by about seven points - so no home semi-final for the champions.
Preview:Saracens v Exeter
Wasps v Newcastle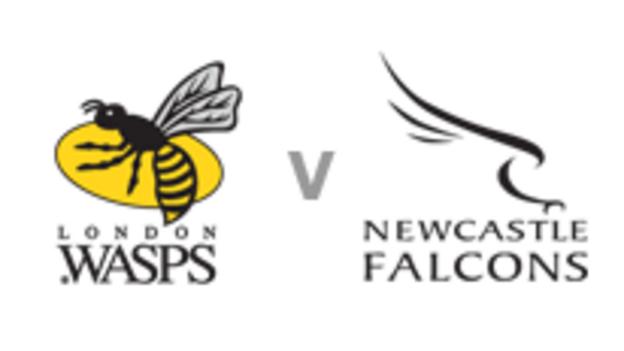 What's at stake?
Quite simply, survival. Newcastle have been written off countless times this year, but three wins and a draw in their last seven games have given them a chance - admittedly a slim one - of remaining in the Premiership.
Whereas Newcastle are fighting for their Premiership life, Wasps may just be fighting for their survival full stop. Recent reports suggest new owners are preparing to take charge of the troubled outfit, but with warnings of possible administration still hanging in the air, the former champions cannot afford to go down.
As things stand:
Wasps are big favourites to stay up. They go into the game four points clear of the Falcons and with a far superior points difference - just how vital was that losing bonus point at Bath last time out?
For Newcastle the equation is simple. They have to win and win big, making sure they secure a four-try bonus point while denying Wasps so much as a losing bonus point. With only 24 tries in 21 games, that looks a tall order.
(Whoever finishes bottom could be handed a reprieve depending on who wins the Championship play-off final, and whether their ground meets Premiership standards. Neither Wasps nor Newcastle will want to rely on that though.)
Jerry's view: Wasps boss Dai Young will be praying for a win because the future of the club depends on it. New backers have apparently been found to lead the club into the 2012-13 season although I understand it is dependent on them staying in the Premiership.
It's the best news Wasps have had during an awful season. They have suffered unprecedented levels of injuries and combined with the speculation surrounding the sale of the club, it's just been an incredibly unsettling time.
The Falcons have given it a tremendous crack at staying up and it's a tribute to the players and interim coaches Gary Gold and Mike Ford that they have taken it to the last game, but I expect them to go down.
Jerry's verdict: Wasps to win by about six points.
Preview:Wasps v Newcastle
Follow Jerry on Twitter: @JeremyGuscott