Ruan Pienaar relieved after Ulster semi-final win
Last updated on .From the section Rugby Union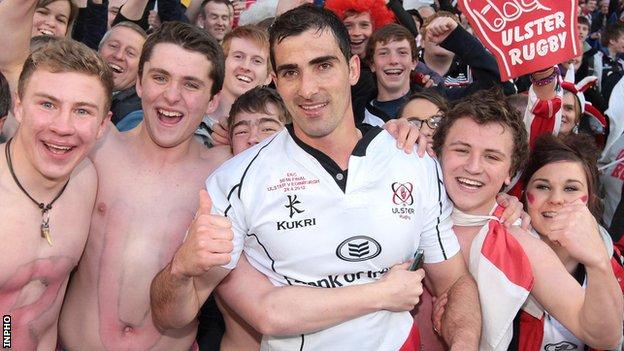 Ruan Pienaar spoke of his relief after he helped Ulster edge out a brave Edinburgh side in the Heineken Cup semi-final at the Aviva Stadium.
Pienaar's 17 points proved pivotal as Ulster had to battle to overcome the Scottish underdogs 22-19.
"It was a tough game. Edinburgh put us under a lot of pressure," said the South African.
"We'll need to improve for the final. We weren't at our best but we managed to play not that well and still win."
Pienaar paid tribute to the Ulster fans who travelled down in huge numbers to Dublin for the team's first European Cup semi-final since the 1999 triumph in the competition.
"It was special. So many people came down from Belfast and filled the Aviva Stadium.
"It was great to run out in front of that crowd at the stadium but we haven't achieved anything yet.
"At Twickenham we'll be facing either Leinster or Clermont, who are fantastic sides. It's going to be a tough one but we have a squad that are right up there."
Pienaar produced a perfect kicking performance as he slotted six out of six and he dictated most of the Irish side's crucial incursions against an Edinburgh team undone by 16 handling errors.
"In the first half, we practically didn't have the ball, so in the second period we tried to keep it in hand and play in their half," added the 28-year-old.
"We showed a lot of courage. We knew what returning to the final meant for the fans."
Ulster coach Brian McLaughlin insisted there is more to come from his side following the hard-fought win.
"We are delighted to be where we are. It was exceptionally tough," said McLaughlin, who is leaving the role at the end of the season.
"We knew it was going to be like that. Edinburgh threw everything at us. They did not make it easy to play.
"We are looking forward to getting to Twickenham and showing we can dog it out like we did today but also we are a very capable rugby side."
Edinburgh knocked out Toulouse in order to reach their first Heineken Cup semi-final and they produced another spirited European performance.
"We are disappointed and a little bit frustrated," said Edinburgh coach Michael Bradley.
"We had enough opportunities to build a bigger points total than we did.
"In the second half Ulster shut us down a little bit more. They stifled our ability to play attacking rugby.
"Ulster got the upper hand in the scrum but we had chances to win the game."