Jeremy Guscott Q&A

By Jeremy Guscott
Rugby union analyst, BBC Sport
Last updated on .From the section Rugby Union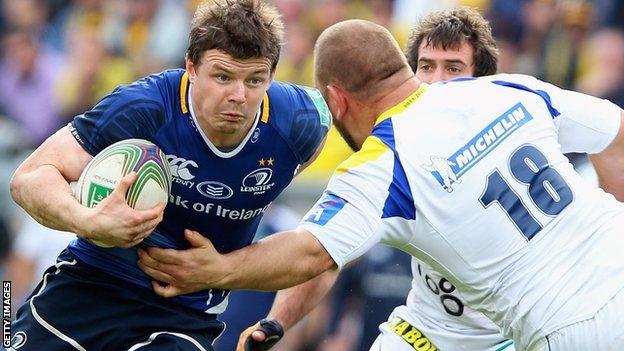 Among the topics the former England and Lions centre discusses this week are:
- Why Irish teams do so well in Europe and English clubs don't
- Whether the England set-up would benefit from supplementing the permanent coaching staff with more short-term appointments
- How the best Heineken Cup teams would fare against their Super XV counterparts
- The Aviva Premiership play-offs
Jerry will answer as many of your questions as possible each week but not every question submitted can be used. This week's answers appear below.
So, Ulster and Leinster are in the Heineken Cup Final. Munster reached the quarter-finals, but are still one of the strongest teams in European rugby. All in all Irish teams have had a pretty good year, but the question is, why does this success not translate at an international level? Chris, Isle of Man
Hi Chris, good question, one that Declan Kidney, his coaches and his Irish team, not forgetting every Irish rugby supporter, must have been asking themselves after this year's Six Nations and last year's Rugby World Cup. I can only think that there is a bit of uncertainty in the way the individuals within the team really deep down want to play. I agree the talent in Ireland at the moment and for the last several seasons has been good, but only one Grand Slam and championship isn't enough reward for the players of that quality. A big reason would be the constant changing at 10, O'Gara and Sexton see the game differently and that will affect everyone. The Irish front row doesn't seem to fare as well as the Irish provincial teams do in Europe against the same players. They did it once in 2009 and there's no real reason why they can't again - they just have to believe in their own ability and come to terms with being favourites.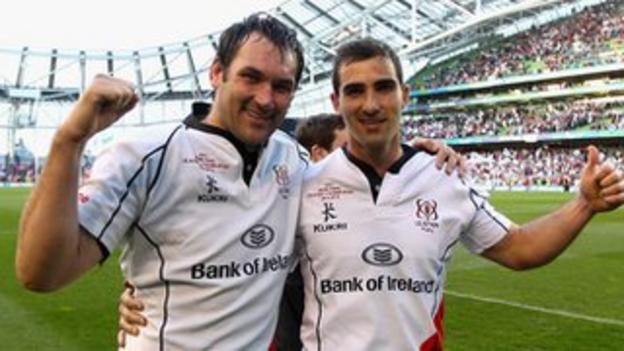 What is the secret to Irish club rugby: is the salary cap the biggest influence combined with international duty? Being a Saints man you can't exclude the fact that five to eight of our key players have been involved in international duty for well over half the season - is it time to reconsider suspending or restricting club competition in lieu of international duty? Yiannis (Yan) Poulopoulos, South Northamptonshire
Hi Yan, there are a number of reasons for the Irish provinces doing so well currently. Player talent is one, salary cap is another and no relegation in their domestic league one more. The biggest factor right now is that the skill levels and fitness of the Irish appear to be better than the rest of Europe. The Irish provinces tend to concentrate on the Heineken Cup and let the domestic competition look after itself so their top players can peak for Europe and the internationals and don't have to worry too much about the Rabo12. I can't see the domestic/international clash in England changing anytime soon unless they restructure the whole season.
Why is it that the Irish provinces get away with so much cynical play time and time again? Ulster were lying all over the ball on several occasions and how Ferris didn't get yellow carded for that slap down whilst lying in an offside position is beyond me. I also thought it was staggering that Leinster didn't receive a single yellow against Clermont. Credit where it's due. They seem to be able to play the system better than other teams. They are more street wise but how do they also manage to also get away with stuff which is blindingly blatant? Dave, Scotland
Hi Dave, everything you mention is down to the refs to spot and act accordingly. All the best teams seem able to play the refs and it always appears that they get away with a bit more than most. I don't think Ulster or Leinster are more cynical than the rest, as a team and individuals you will continue to play in a certain way until the ref penalises you for it. I remember Tigers get stick from a lot of supporters for the way they play the tackle, going beyond the ball and pretty much sealing it off.
If Leinster win the Heineken Cup Final, will three in four years make them the best team in the history of the competition? Al, Ireland
Hi Al, Toulouse have won four so if Leinster win against Ulster that would put them right up there in European terms. There is no doubt that Leinster are playing some brilliant rugby and in my book deserve everything they achieve. The way they distribute the ball is at a level most teams can only dream about, it's the way forward and the quicker teams learn that the quicker they will be able to compete with Leinster.
In football, success in European club competition is always a yardstick by which a home league is judged. What does the lack of success in both the European Cup and Challenge Cup say about the Premiership? Simon Ashton, UK
Hi Simon, quite simply it says the teams in the Premiership are not good enough right now to beat the Irish. It's a bit more complicated than that because let's look at the talent in teams like Scarlets and Cardiff, yet they don't seem to be close to conquering Europe just yet. Aviva Premiership teams have won the HC six times and Irish provinces will equal that with an Ulster or Leinster win. Recently it has been Ireland with five wins out of the last seven seasons.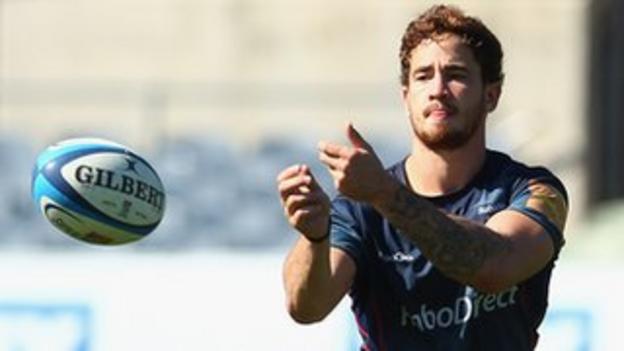 I hope you're as sad as I am about the complete absence of English teams in the European semi-finals this weekend. English teams can still pull off amazing wins (Harlequins' victory in Toulouse was amazing) but not compete throughout the event due to limited squad size and depth.
I totally understand why there is a salary cap - but should it not now either be (a) raised significantly or (b) set in a different way; based on % of turnover or some similar measurement, so clubs that can afford to spend more are able to compete? Jonathan, England
Hi Jonathan, if you raise the salary cap or base it on % of turnover you are going to have the haves and have nots ( I know there is already to a certain degree because not all AP teams spend the salary cap at present). It's not the best way forward for a sustainable future. Leinster have built themselves a great business moving to the RDA stadium, winning and bringing in big crowds and sponsorship. The French game thrives financially because they have big crowds, huge business sponsorship, merchandising and most of the stadiums cost nothing because they are city owned. Until the game in England attracts similar crowds like we see at Tigers, Saints and Gloucester, not a lot can be changed. Yes, some teams can rely on benefactors but for how long? They don't want to keep losing millions year after year.
With Danny Cipriani's return to these shores imminent, do you think his defensive limitations will frustrate his chances of an England call-up - especially when compared to the Wilkinson-esque defence of Owen Farrell? Andrew Tanner, Wales
Hi Andrew, Cipriani has to have an all-round better game than the likes of Farrell, Flood, Burns and the rest. I read somewhere he's only started 18 games for the Rebels which means he's been a bit unlucky with injuries and his form hasn't been at its best. I really hope he comes back and proves how good he can, be but I agree that if his defence hasn't improved massively he will struggle to get a start with England. Before his bad ankle injury at the time he was England's best attacking 10 but couldn't tackle a paper bag, in the modern international game at 10 you can't survive without a defence.
Andy Farrell enjoyed a successful secondment to England duty from Saracens and Mike Catt is now due to be another short-term appointment as backs/attack coach. Do you think that England could benefit from supplementing their permanent coaching staff with more of these short-term appointments? It seems to me that this could have a double benefit - it would keep the England players on their toes and keep them constantly exposed to new ideas... Simultaneously, it would expose young and coming England coaches to the rigours of the international game, and build the depth of English coaches. Of course, you'd sacrifice some continuity, but hopefully gain in innovation and new ideas. What do you think of this approach? Which coaches would you like to see get three to six-month stints with the England team? Dan O'Keeffe, UK
Hi Dan, it's a nice thought but in reality your idea wouldn't work because a team needs continuity not uncertainty (by continuity I don't mean complacency and being comfortable). Wayne Smith would be brilliant and if he takes the job then I would have him working alongside English coaches at clubs, his knowledge and expertise would be invaluable. I'm pleased Stuart Lancaster has picked Catt and it's a shame Alex King couldn't be available as well.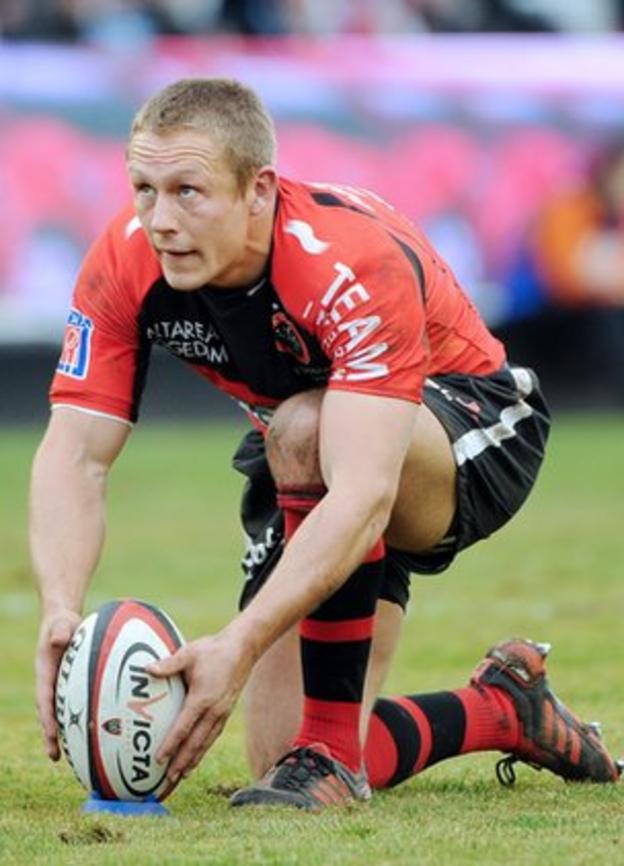 Gerry, how do you feel the best of the Heineken Cup teams would fare against their Super XV counterparts? Oh and is Rob Kearney the best full-back in the world on current form? Stephen Murray, Ireland
Hi Stephen, I honestly believe they would give as good as they got. The Super XV is a different style to what we see in Europe, the breakdown isn't contested as fiercely in Super XV as it is in Europe and that's because Super XV is more attacking based and played faster. On their day I don't see any reason why a team like Leinster or Clermont couldn't beat the Crusaders, Chiefs, Stormers or Reds.
Jonny Wilkinson looks to be in fantastic form for Toulon, scoring 27 points including a match-winning drop goal. How much of a reflection is that on England's inability to utilise him in the World Cup last year? Will, England
Hi Will, don't blame England for JW's poor performances - you have to look at him and the players he played with and how they were coached.
As an avid Northampton Saints fan I have been largely disappointed with how our season has panned out. Granted we have had injuries and suspensions (Hartley, Wood, Clark, Lawes etc). However, if we are to really aspire to be a top-level club then we should have the squad to cope with such setbacks. Whilst we look set to finish in the top four, I can't really see us mounting a serious challenge for the title, especially given our current form, can you? Fred De Klee, England
Hi Fred, it's crucial to get home advantage for the semis and Saints won't achieve that so it makes it harder to win the competition but not impossible. Saints will believe they have a chance whoever they play but going on form Tigers and Quins appear to have the edge.
As a Northampton Saints fan, I would prefer to play Harlequins at the Stoop than go to Welford Road to face the Tigers. Do you agree that finishing fourth this year is better than finishing second with the form that Leicester are in? Aaron Jones, Preston, England
Hi Aaron, I believe it will be equally hard but a local derby generally brings out the best in players and add to that it's a semi-final, then I would prefer the local derby.
I am still searching for the answer to how it is fair that if you finish top of your league (the premiership) that three weeks later potentially the fourth place team miles behind on points play well for two games and are crowned champions. Apart from a money-making final for the RFU what sense does this make? From a potentially miffed Quins. Jerry Davies, England
Hi Jerry, have faith in your team for another three games - I'm sure they do!
Do Newcastle have the attacking potential to score four tries against Wasps on Saturday? All I see is Gopperth and Stringer. Alex Foster, England
Hi Alex, if Newcastle survive it will be a minor miracle given where they have been most of the season and what they have to do away from home against Wasps. We haven't seen too much try-scoring from Falcons to make me think they can do what is needed.
Why not also follow Jerry on Twitter?