Launceston captain Tom Rawlings wants swift coach appointment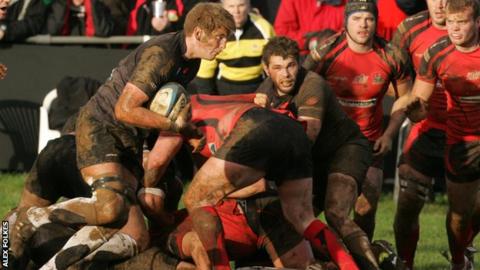 Launceston captain Tom Rawlings says it is crucial that the club gets its coaching team in place for next season as soon as possible.
Head coach Tony Roques and director of rugby Simon Owens have both left.
Rawlings the club need to find replacements quickly so they can start recruiting players for next season.
"We need to get the coaching staff in place and then look to try and tie down boys and work with the budget we've got for next year," he told BBC Cornwall.
Rawlings has previously stated his desire for backs coach Steve Perry to take over the side.
He is concerned that some of the squad, which won eight of their final 10 games to finish sixth in National Two South, may be tempted elsewhere after being forced to take a pay cut in March and receiving their April wages late.
"We may lose a couple, I know Plymouth Albion are sniffing," he said. "Everyone's in talks at the moment, the boys are talking amongst themselves."
However, Rawlings insisted he had no plans to look for a new club.
"I want to stay next year, I'm looking forward to it already," he added.
"There's a realistic financial status for next year which they want to work from.
"If we can keep the boys with that I know they've got the love for the club and the love for the shirt, hopefully we can build a a decent outfit."