Michael Lynagh may never regain full vision after near-fatal stroke
Last updated on .From the section Rugby Union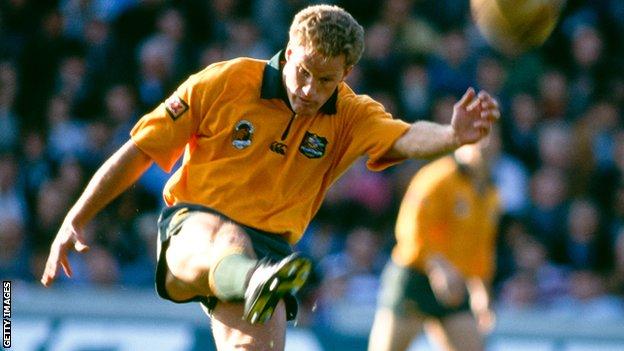 Former Australia and Saracens fly-half Michael Lynagh may never regain full vision after a near-fatal stroke.
Lynagh, 48, said outside the Royal Brisbane Hospital that he had lost 45 per cent of the sight from his left eye following the stroke two weeks ago.
But his doctor, Rob Henderson, said that the former Wallabies captain had made a remarkable recovery.
"As Rob said to me: 'You haven't just dodged a bullet, you've dodged a cannonball,'" Lynagh said.
Henderson said that a split wall in an artery in the back of the Australian's neck caused the stroke on 16 April.
He added that it was very rare for someone of Lynagh's health and age to suffer such a stroke, but that there was no evidence his rugby career had been a factor.
Lynagh, who won 72 international caps between 1984 and 1995, was Australia's vice-captain when they beat England at Twickenham to win the 1991 World Cup.
The fly-half captained his country to the 1995 World Cup quarter-finals and then quit international rugby to join Saracens at the start of the professional era.
He still lives in London but will continue to have therapy in Brisbane for the next three weeks.
Henderson said: "It's amazing he's done as well as he has. It's a rare event and, in most cases, people can't stop it.
"Everyone was very worried. We've been there before, where we've seen people not make it back from that sort of stroke."