Esher coach Mike Schmid moves into chief executive role
Last updated on .From the section Rugby Union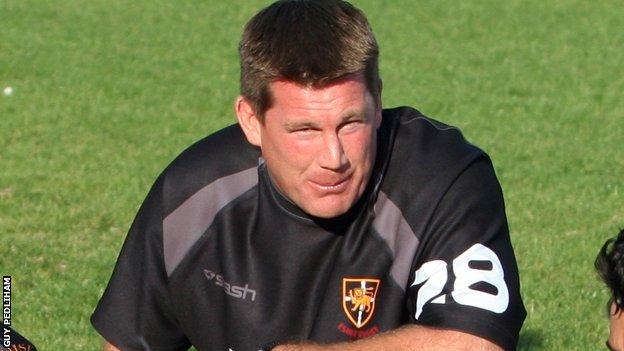 Mike Schmid has relinquished his role as Esher's head coach and taken up the post of the club's chief executive.
The Canadian, who had been in charge at Molesey Road for seven years, had failed to save the side from relegation to National League One this season.
He told BBC Surrey: "When promotion or relegation happens it's a good time for change both on and off the field.
"It was certainly my choice to move. The opportunity was there for me and I like a challenge."
He added: "There is unbelievable potential in the off-field side and I'm looking forward to getting my teeth into it. We have punched about our weight in the last few years but we want to be a sustainable Championship club.
"It won't do the rugby side any harm for a fresh pair of eyes to come in and re-energise that as well.
"I know there is a strong group of players to help drive the club forward."
Esher president Ross Howard said: "Mike knows the club inside out and has a close tie to all aspects of life at Esher.
"It is important at every level [we] work together to ensure that we capitalise on the opportunities which we have on and off the field. We are confident that Mike can be the catalyst for that."
The club are now advertising for a new coach for next season, and Schmid says he will assist in the process.
"I will be involved and I know there are plenty of candidates from within and one or two from outside," he continued.
"We'll have to look carefully because not only do we want someone who is highly qualified, we're looking for someone to fit into the culture of the club.
"We have lost some significant central funding [from the RFU] so we have to be careful with what we spend but we still want the best person we can possibly get for the role."