Delon Armitage may return to London Irish in future
Last updated on .From the section Rugby Union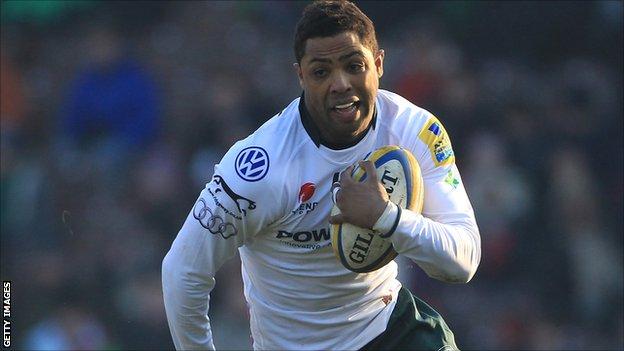 London Irish full back Delon Armitage says he has not ruled out returning to the club as he prepares to move to French side Toulon.
Armitage, who has been at the club since 2003, will play his final game for the Exiles this weekend.
The 28-year-old will then join brothers Steffon and Guy at Stade Mayol.
"I've signed for two years for Toulon but who knows, if London Irish were still keen I would love to come back," Armitage told BBC Radio Berkshire.
Armitage, once a bright prospect for England, has endured a troubled couple of seasons, losing his England full-back berth to Ben Foden and facing disciplinary problems.
He admits the time is now right for him to play his rugby elsewhere.
"When I came here at 17 it was always my dream to stay here and end my career here and I've enjoyed every minute of it," added Armitage.
"Things have happened and they have been no-one else's fault but my own. I think it is time for me to move on. I am getting myself into things I shouldn't be and it was time I moved on and challenged myself somewhere else.
"I've asked myself some questions and maybe I have got too comfortable and have achieved what I set out to achieve in a short space of time. I need to go away and work that out and I've got an opportunity to go and play for one of the best club's in the world."
Armitage admitted if he was still involved in the England set up his decision may have been different, and added the arrival of former coach Brian Smith back to the Exiles as Director of Rugby did make me think twice about leaving.
"If I was still involved with England I would have stayed at London Irish, definitely," he said.
"Obviously things have happened this year that have made that impossible. This is the right time to go.
"When Brian Smith returned to the club I did have second thoughts but I had already signed [for Toulon].
"Like I said, Brian has been brilliant, Toby has been amazing but things have happened that have meant I'm not at the top of the pecking order for England so it is time for me to go and challenge myself and work hard."