RFU chief Ian Ritchie wants 2015 World Cup for all
Last updated on .From the section Rugby Union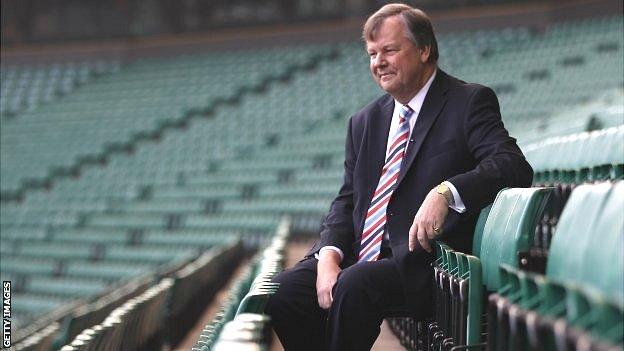 Rugby Union Football chief executive Ian Ritchie says Nottingham could host games when the World Cup comes to England in 2015.
Ritchie, who has been in Nottingham visiting clubs, universities and schools, said: "We want to make sure everyone is connected and enthused.
"It's not just about being in London. We are open to look at all venues.
"There are going to be matches in Manchester, Newcastle, Leeds, Sheffield, Nottingham."
Ritchie, who was at Nottingham Casuals Rugby Club on Thursday where schools were competing in a tag festival which Nottingham Rugby helped officiate, added: "We are discussing which venues to have it in. It's going to a great promoter for the game.
"We are still open to look at all the venues.
"We have got to find where we can go. There were various thing put into the bid, various cities, but we haven't confirmed any deals or got any agreement yet.
"What we want to do is start talking to cities, start talking about venues. We have still got three-and-a-half years before we start. I'm open to all suggestions. Nothing has been confirmed at all."
When the competition was jointly hosted by England in 1991 only Gloucester, Leicester and Otley played host to games outside Twickenham, while in 1999, when Wales were hosts, matches were played in Bristol and Huddersfield.
Ritchie said Championship side Nottingham, who play their games at Meadow Lane, will be considered.
"It's always good to get away from Twickenham because what rugby is all about is grassroots, about clubs about all of England," said Ritchie who was appointed RFU chief executive in December.
"This is only my ninth week and not claiming to be an expert on anything yet. The whole job for me at the moment is to listen as much as possible.
"What we are really about is promoting the game, participation in the game. The World Cup is coming up in 2015 which is the third biggest sporting event in the world after the Olympic Games and football World Cup."