Chris Paterson looks ahead to coaching challenge
Last updated on .From the section Rugby Union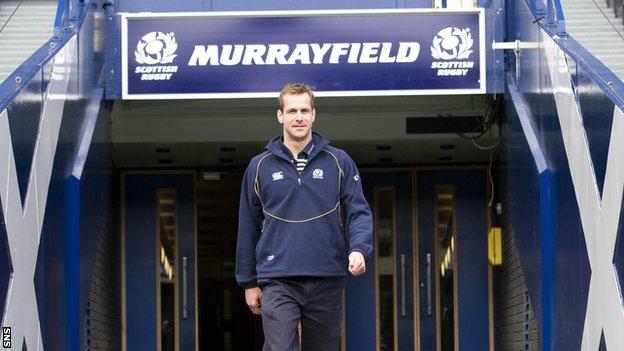 Scotland's record points-scorer Chris Paterson is looking forward to a new career in coaching.
The 34-year-old will have an ambassadorial role as well as working under the wing of Scottish Rugby kicking coach Duncan Hodge.
Having ended his 14-year-career at the weekend, Paterson told BBC Scotland: "I need to start on the bottom rung.
"But I'm an ambitious person and whatever I set my mind to I've always tried to do the best I can."
Paterson begins working with former Edinburgh and Scotland team-mate Hodge, whose role extends to working with players in the pro-teams and with age-grade squads, next week when he flies to New Zealand on a fact-finding mission to Canterbury Crusaders.
"It is a huge thrill for me," said the full-back and winger who scored 809 points for Scotland. "There are so many good colleges out there and so much knowledge of the game.
"I'm not going to set a goal. What I'm doing is learning a new set of skills that can hopefully allow me to become a successful coach.
"I'm lucky to have such vast experience as a player but I need to learn how to harness that.
"And the game changes so quickly that you have to adapt and learn how to stay ahead of those changes."
During a long and distinguished career, Paterson has played for a number of coaches, including Jim Telfer, Ian McGeechan and Andy Robinson.
"I hope to take elements from all the coaches I've worked under," he added.
"But the one name that sticks out for me is Rob Moffat; my former PE teacher and head coach at Edinburgh, for his knowledge of the game, his enthusiasm and integrity as a person."
Paterson brought the curtain down on his playing days with a try-scoring performance in Edinburgh's 44-21 win over Treviso on Saturday.
"I can honestly say I was really happy when the final whistle went," he said.
"We got a good win and I got a great reception from the Murrayfield crowd.
"I genuinely retired happy and I think that underlines that it was the right decision for me.
"I feel fulfilled and I'm proud of what I've achieved."
Reflecting on a career that has included four World Cups and an amazing sequence of 36 consecutive successful goal-kicks for Scotland, Paterson picked out the Six Nations match against Wales in 2010.
"I was lucky enough to have a 14-year career and the best and worst moments would probably be 20 minutes apart," he explained.
"Winning my 100th cap in Cardiff and leading the side out. That goal almost became an obsession for me once I got to around the 85 mark. When it eventually came, I had such a feeling of elation and pride.
"Twenty minutes later I was in the back of an ambulance with the worst injury of my career."
Paterson recovered from a split kidney to play on nine more occasions for his country, demonstrating the will to succeed that many feel will serve him well in his new career.
"We know from speaking to young players within the Edinburgh set-up the extent of the influence Chris has, and his ability to articulate the knowledge and skills he has acquired throughout his career is already evident," said Scottish Rugby high performance director Graham Lowe
"Chris has a teaching background, having studied PE before he became a professional player, and we've already seen his ability to mentor players - such as Tom Brown, through the Winning Scotland Foundation initiative.
"I firmly believe we can develop Chris as a specialist coach and, in turn, infuse our best young talent with the best practice and work ethic which made Chris the player he was."