Ian Davies calls on Cornish Pirates to improve accuracy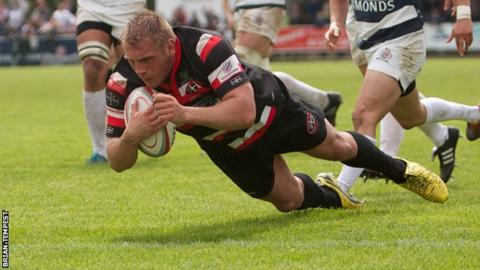 Cornish Pirates head coach Ian Davies says his side must not make the same mistakes they made in their Championship semi-final first leg if they are to get a result at Bristol.
The Pirates beat Bristol 45-24 in Sunday's opening leg.
"We gifted them 21 points and if we do that next week it'll be nil-nil again.
"We've got to make sure that the accuracy that we didn't have in that first 25 minutes is there for the whole game at Bristol," Davies said.
And he told BBC Radio Cornwall that his side's emphatic win has piled the pressure on Bristol, who are one of only two teams applying for promotion to the Premiership.
"At home, with a massive crowd at Bristol - the pressure is on them now.
"Do they sit and wait or do they chase the game early?
"It's a big decision they've got to make, we've just got to make sure we're a lot better than we were today.
"I don't think we'll change the way we're going to play, because when we play with tempo we're a very good side."
But Davies said it was important that his squad did not get carried away by their opening stage three win.
"We've won nothing, we're through to nothing, it's one game, it's about four games. We've got three to go and we've got to perform next week."