Jeremy Guscott Q&A

By Jeremy Guscott
Rugby union analyst, BBC Sport
Last updated on .From the section Rugby Union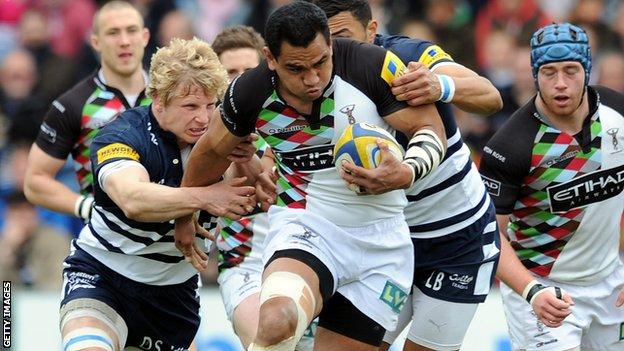 Among the topics the former England and Lions centre discusses this week are:
- The Aviva Premiership play-offs
- Tim Visser's imminent qualification for Scotland
- Wasps' chances of success next season
- Exeter's success this season
Jerry will answer as many of your questions as possible each week but not every question submitted can be used. This week's answers appear below.
Hi Jeremy, do you think Harlequins can win the play-offs, considering that the team who finishes first in the league historically misses out on winning the Premiership? Alex Wood, England
Hi Alex, I definitely believe Quins have a great opportunity to win the play-offs, particularly with a home tie against Northampton this weekend. The only hurdles I see are them dealing with being favourites, certainly for the semi with home advantage. Fitness and fatigue of players will be crucial at this stage. Although Quins lost to the Tigers last month, if they can draw belief from their wins against Toulouse away and Saracens at Wembley they could win the title.
Hi Jeremy, who do you expect to win the Aviva Premiership play-off semi-finals? Benjamin, England
Hi Benjamin, I would expect the home teams to win the semi-final play-offs. If Quins are fully fit I expect them to have more behind the scrum to threaten Northampton, but they have to get parity with the giant Saints pack. Leicester Tigers have run into good form just at the right time and teams really do struggle at Welford Road. Fitness doubts surrounding Ben Youngs and Toby Flood will be a worry to Richard Cockerill, and without those two it will be a struggle.
There are lots of England reputations at stake in both games, and points to prove for those not in England's starting XV.
Saracens, the non-risk rugby team, did score four tries against a resilient Exeter Chiefs, and if they can play to score tries they have every chance of winning. But if they play the no-risk style, they will lose to Tigers.
Hi Jeremy, I have just finished watching Bristol lose in the first leg of the Championship play-offs. As a Bristol fan I am annoyed at the RFU's decision to have these play-offs. As Bristol are the only one of the four sides who can go up [because of stadium standards], what's the point in even having them? What are your views on the play-offs if teams don't have the capacity to go up? Dean, Germany
Hi Dean, I agree - I don't see the point either. The team promoted hasn't got enough time to recruit for a tougher life in the Premiership. Anyone that reads this Q&A regularly will know I'm not a fan of promotion and relegation anymore.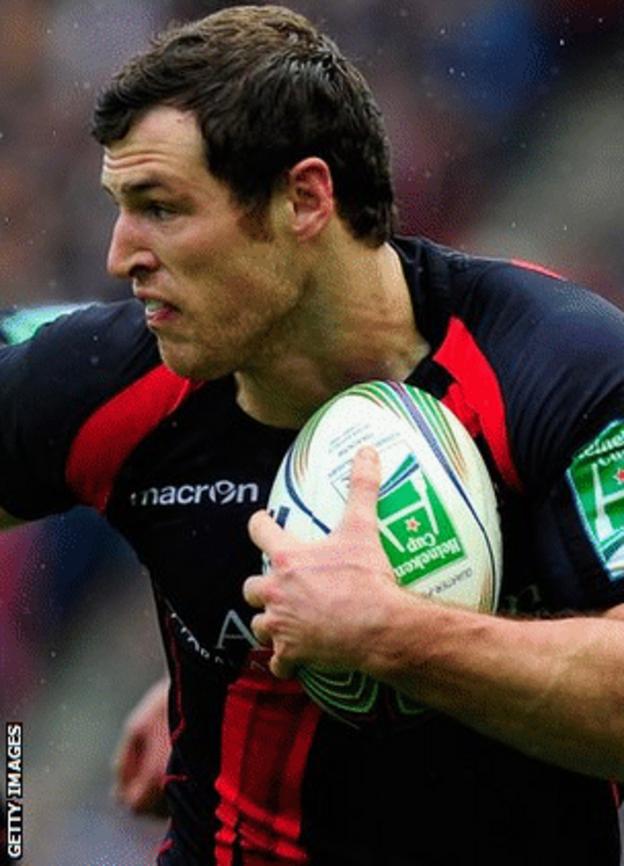 Hi Jeremy, Tim Visser won the players' player of the year award for the Rabo 12 Pro Direct league. As he qualifies for Scotland in June, do you think he will walk into the Scotland set-up? And if so, will he be the man that can help Scotland win more games, particularly in the Six Nations? Sean, Scotland
Hi Sean, if Visser continues to play as he has done then it would be difficult for Andy Robinson to leave him out of the team. I don't believe a try-scoring winger is going to solve all of Scotland's problems. For me, Scotland's problems stem from individual errors that are hurting team development and confidence. If Scotland cut out the errors they will start to win games.
Hi Jeremy, after Wasps' survival at the weekend and James Haskell, Tom Palmer and Stephen Jones being added to the squad, plus the return of many injured players, where do you realistically see Wasps finishing next season? Also, what are the chances of an England call-up for Christian Wade? Elliot, England
Hi Elliot, there is a lot going to happen between now and next season so it's to difficult to say realistically where Wasps will finish next season. Without doubt, with new owners and with the new signings, the chances of Wasps not fighting against relegation are improved. Wade playing for England will depend on him playing regularly and scoring tries. Playing in a losing team every week won't help, but if Wasps can compete, that will definitely improve Wade's chances of getting a start.
Who do you think will take the blind-side flanker role after Tom Croft and Tom Wood's injuries ruled them out of the South Africa tour? Thomas, England
Hi Thomas, there are a number of solutions. Stuart Lancaster could move Chris Robshaw to six and select an open-side like James Scaysbrook, Andy Saull or Matt Kvesic. Tom Johnson at Exeter would be a good option at six, plus you have Phil Dowson who could play there too. I've probably missed many more names, but Lancaster won't be short of back-row options.
I'm an Exeter fan and I can't believe how far they have come since just a few seasons ago. They have a great stadium and finished in the Heineken Cups spots, yet I don't think they get anywhere near the credit they deserve. How well do you think they can do next year? Michael Richards, Devon
Hi Michael, I really do think the Chiefs do get the respect of the rest of the league, their results demand it. What the Chiefs have achieved in two short seasons is nothing short of phenomenal. I would suspect it wasn't in the club's planning to be in the Heineken Cup next season but deservedly they are. However, they will need to plan very well for next season. Do they go for it in Europe and risk their Premiership position? Because, unless Chiefs increase the size and quality of their squad, they will struggle to compete in both seriously. Tough decisions need to be made but, whatever Rob Baxter, his squad and the club have faced over the last two seasons, they have dealt with it. I just hope the Heineken Cup doesn't over-stretch them.
Why not also follow Jerry on Twitter?