Toby Booth exit from London Irish no surprise - Peter Richards
Last updated on .From the section Rugby Union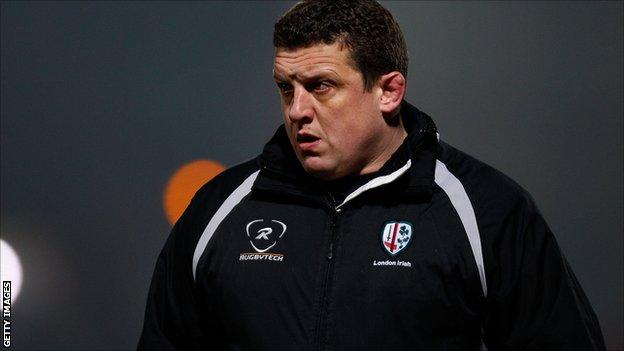 Former London Irish star Peter Richards says Toby Booth's departure from the Exiles to Bath as forwards coach should come as "no surprise".
In March, Richards said Brian Smith's return to the club as director of rugby was a "kick in the shins" for Booth."
"When Brian came in to take over there was always going to be movement below him," Richards told BBC Berkshire.
Scrum-half Richards, who won 13 caps with England, added: "So, no I don't think it is a surprise."
Smith, 45, previously held the role with the Exiles between 2005 and 2008.
Following his departure, Booth became head coach as the club reached a Premiership final and also qualified for the Heineken Cup over three successive years.
However this season has been difficult with the announcement of the departure of several senior players in the summer, as well as missing out on Heineken Cup qualification.
Earlier in May it was also announced that attack coach Mike Catt would be leaving to join the England set-up.
"They are not the first club to be changing their coaching staff with Sale, Gloucester and Bath obviously themselves changing management," added Richards.
"It's revolution on and off the pitch at the moment. Toby Booth has been there a long time but the club probably needs a new voice and he probably needs a new challenge. We all wish him good luck. He has been a fine servant over the years."
Richards now believes Smith will take a more involved role with the club but still feels they will bring in a new head coach.
"Brian Smith is a shrewd operator and I'm sure he will take on some sort of hands on role in coaching the backs," he said.
"There has been a lot of movement not just at London Irish this year and it will be interesting to see who gets the job.
"Brian told me he would like to wear a track-suit three days a week and a suit for two days and he's still got obligations off the field in terms of contract negotiations.
"But I think he certainly likes to get his hands dirty but not as a head coach as it is too much responsibility for one man."