Toby Booth's London Irish exit was inevitable
By Graham McKechnie
BBC Berkshire Sport
Last updated on .From the section Rugby Union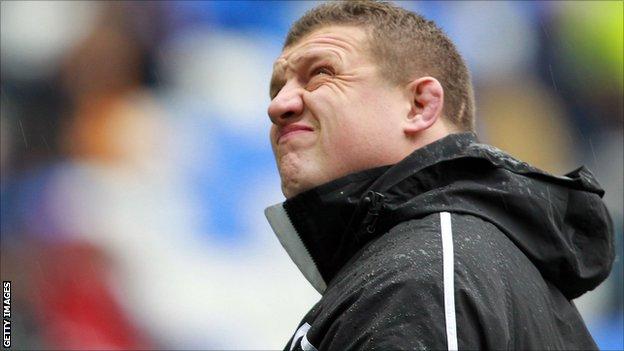 From the moment Brian Smith was unveiled as the returning director of rugby, Toby Booth's future at London Irish was uncertain.
The official line, that Booth was happy with the move - even that it was his initiative, was never entirely convincing.
And over the subsequent weeks, as his coaching staff was disassembled and new players brought in, his departure looked inevitable when the right job came up.
It's a move that makes sense for Booth. To have someone brought in above you - and in particular your old boss - would be too much for most people to stomach.
That he even considered staying is testament to the friendship he and Smith had forged in the previous regime, a friendship which has been strained but remarkably remains intact.
Booth remains one of the brightest coaching prospects in the English game and London Irish will rightly express disappointment in his departure.
While this will be genuine - let's not forget this is the man who took the Exiles to within a couple of points of being Premiership champions - there may also be a hint of relief that everyone can now move on.
Smith is looking for the club to make a fresh start - 'evolution' was the word he used last time he arrived, this time it's clearly a revolution.
Moving to Bath means Booth can leave with his head held high, his record unblemished and - hopefully - his regard for the Exiles undiminished. And Smith maintains we will see Booth in the England coaching set up in the coming years.
Bath of course now have three former London Irish coaches - Gary Gold and Neal Hatley alongside Booth - all, interestingly, three former forwards coaches.
There is one name missing - the name perhaps most coveted by Bath supporters - Mike Catt. England may have stepped in to spoil that plan but he will surely make his way to the Rec sooner or later.
Smith meanwhile is building a promising squad for next season and he will have to add a couple of coaches now to his shopping list.
The signings have been impressive in terms of players - Shane Geraghty's arrival being another indication that Booth's days were numbered.
But it will surely be a concern for the club and supporters that some of the players who have come through the club's academy under Booth and more recently Hatley will be tempted to follow them down the M4. Booth has always inspired loyalty from his charges, particularly the academy graduates.
We will discover over the next couple of seasons if this loyalty is to the club or the man.
However things work out, this is a sad day for London Irish, for Smith and for Booth. Although the two men have not won silverware with Irish, they led them during the club's most successful period, reaching a Premiership final, a Heineken Cup semi-final and perhaps most importantly taking them well away from their position of perennial relegation favourites.
It had been the club's hope that the two could rekindle the chemistry to begin a new era. But regrettably - and understandably - it was asking too much of a proud man like Booth.
He should go down as one of the Exiles' most innovative coaches, a superb developer of talent and above all a thoroughly decent man.