Cardiff Blues announce return to Arms Park
Last updated on .From the section Rugby Union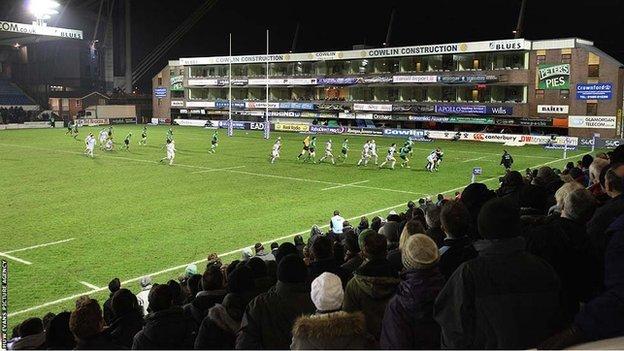 Cardiff Blues have confirmed they will return to the Arms Park after just three seasons at Cardiff City Stadium.
The Blues moved to the stadium in 2009 but crowds at the home of the city's football team have been disappointing.
In February the Blues moved two games to the Arms Park and have now negotiated a release from their long-term deal with Cardiff City.
"This move is important for our future sustainability," said Blues chief executive Richard Holland.
Amid poor crowds and financial problems the Blues switched Pro12 games against Ulster and Connacht to the Arms Park this year.
In April, a Blues spokesman confirmed the region were considering whether to play all their games at Cardiff City Stadium, the Arms Park or a combination of both in the future.
The Blues signed a 20-year agreement when they moved grounds but have come to an agreement with the football club that will release them from the deal before next season.
"The move to the Cardiff City stadium was done for all the right reasons," added Holland.
"But having listened to supporters, sponsors and reviewed the financial position of the business, the board and I believe the Cardiff Blues should be playing back at the Arms Park.
"I would like to thank the board of Cardiff City Football Club for their friendliness and openness during our negotiation over the release from the Cardiff City lease.
"We will still have the option of playing games at the Cardiff City stadium when demand for tickets dictates."
Cardiff City chief executive Alan Whiteley said the agreement made sense for both clubs.
"Satisfactory financial terms have been reached with the Cardiff Blues to allow their exit, which coupled with the Premier League aspirations of this football club and a need therefore to be in sole control of our stadium, makes this a good solution for both sides," said Whitley.
"It's with the full support of our Malaysian investors that this agreement could be reached and facilitated."