Horacio Agulla eager to leave Leicester Tigers on a high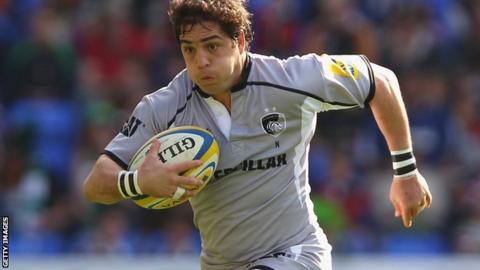 Argentine wing Horacio Agulla says he is leaving Leicester Tigers reluctantly and is desperate to bow out in style by helping them win the Premiership final.
Tigers host Saracens - the team who beat them in last season's showpiece final - in the semi-finals on Saturday.
Agulla, whose deal will not be renewed because of his international duties, could be playing his game Tigers shirt.
"I never wanted to leave," Agulla, 27, told BBC Radio Leicester. "But now I want to leave on a high."
Agulla had hoped an agreement could be reached between the Argentine Union and the RFU which would have seen him stay at Welford Road.
But Tigers are mindful of spending part of their salary cap on a player they will have to do without for the first few weeks of the season.
They have already lined up Fijian wing Vereniki Goneva as a replacement.
Agulla's international commitments and likely participation in the Four Nations tournament mean he would only return to club rugby in early October.
Despite that, there are no shortage of teams eager to sign the robust winger.
Several clubs in England are vying for his signature, and a move to France is also a possibility.
"I have a few options," Agulla said. "I really enjoy playing for the Tigers. It's one of the best clubs in the world and I feel I fit in well here.
"But rugby is like that and you have to keep going and find another way. I learned a lot here and I will miss the club.
"It's very frustrating. I never wanted to leave Tigers but things are this way. My priority is to play for my country and this happens sometimes. I have to look forward.
"Hopefully I will have another contract in a few days."
Agulla, who joined from Brive in 2010, will always have special memories of his time as a Tiger.
"The love and confidence the fans have given to me over the two seasons I have been here has been massive," he said.
"I am really proud to have been part of this club and am glad that the fans have enjoyed my rugby as well.
"The first time I put the jersey on was amazing, I couldn't believe I was playing for a big club like this. At first it was hard because I wasn't playing much.
"This year has been amazing and I have played nearly every game. I have really good memories from the club.
"I think I have improved a lot and learned a lot from the players and the coaches. I have grown as a player and as a person."
Signing off with a Premiership final win is the ideal scenario but, before they can contemplate that, Saracens stand in the way of another Twickenham appearance.
"I want to leave the club as high as possible," he added.
"I want to be champions of the Premiership. Last year we were so close and I don't want to let it pass again.
"There are few players in the same spot like Alesana [Alesana Tuilagi] and Skivs [George Skivington] and we want to put the club on the top."