Dean Richards ready to return from 'Bloodgate' scandal

By Alastair Eykyn
BBC Sport rugby union commentator
Last updated on .From the section Rugby Union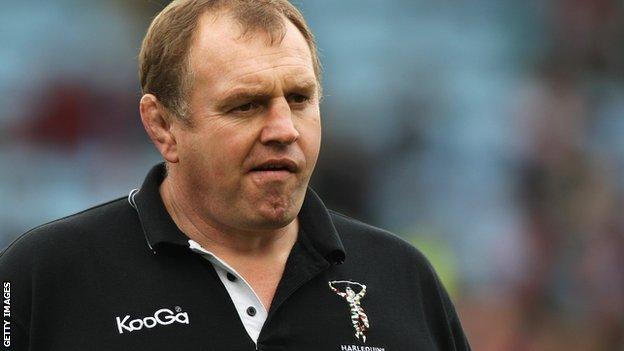 Dean Richards has done his time. More than three years have elapsed since that fateful afternoon at the Twickenham Stoop when he found himself at the centre of one of rugby's biggest scandals.
It became known as "Bloodgate" and it stained the reputation of one of the game's finest players, as well as one of its finest clubs, Harlequins.
On 12 April, 2009, Leinster beat Harlequins 6-5 in a Heineken Cup quarter-final. Fly-half Nick Evans missed a last-minute drop-goal to win the game for Quins.
He had been substituted earlier, but was allowed to return to the field as a "blood replacement" for winger Tom Williams.
The blood inside Williams's mouth was fake. Harlequins had cheated in an attempt to gain a competitive edge. The fall-out rocked the rugby world.
As director of rugby at Harlequins and the man who issued the instructions for the subterfuge, Richards was the chief casualty.
After four months of protracted disciplinary hearings, he resigned and was handed a three-year ban from all rugby.
He returns to the game in August as the new boss at the Newcastle Falcons. The former England number eight is repentant, regretful and looking forward to his new challenge.
"I felt very guilty," he told BBC Sport. "I put a lot of people in a position where they could have lost everything.
"I'm not the type of person to go match-fixing. I am very competitive and the reason I did it is because I wanted to win a game. I shouldn't have done it.
"We all felt that this was something that was happening on a regular basis at other clubs. We felt it was common practice. But that's not an excuse. It should never have happened."
Richards believes his suspension will serve as notice to others. He is hopeful that such sharp practice has been removed from the game as a result.
"I hope I haven't served my three years for nothing," he said. "I hope other people have learned from my mistakes.
"I am still as competitive as ever, but I know the boundaries that I have to work in."
Steph Brennan was the Harlequins team physiotherapist who gave Williams the blood capsule. He was struck off by the Health Professions Council before winning a High Court appeal almost two years after the incident.
Richards feels a great sense of responsibility. "Steph is a good friend of mine," he said. "I felt very sorry for him. I would have done anything to help him. I was very pleased to see him reinstated."
What about Richards's relationship with Williams? In his disclosure, the winger painted his boss as a bully. Richards takes issue with this version of events, but is keen to draw a line in the sand.
"The way I was portrayed was not accurate," he said. "We are in the media spotlight and they latched on to that.
"My relatives, my friends and people I know well supported me. They know I am competitive, but they also know that there is a part of me which is the biggest softie around. But people don't see that.
"I have a very limited relationship with Tom. I have met him since. We have shaken hands and said 'hello'. If he is still angry with me, he hasn't shown it. I would hope he isn't, considering the outcome.
"He's a good player. His starts at Quins have justified his ability. Would I take him on at Newcastle? I probably wouldn't. It would probably be a recipe for disaster, purely because of what the media would make of it."
Richards has bided his time, stepped away from the game he loves and become involved in a host of different things. He acted as a consultant for an insurance company, has been active on the after-dinner circuit and devoted a lot of time to the Prostate Cancer Charity. He has been struck by the response to his misdemeanour.
"You tend to find out who your friends are in situations like that," he said. "It was interesting to see who rallied in support, especially in the village that I lived in. They were very good to me. On the whole, people have been forgiving."
Asked if he appreciates that there will be those who will always look upon him as a cheat, Richards replied: "They may do. That's up to them, if they want to. I have no issues if that's the way they feel.
"I know who I am, and I know what I did. I wasn't particularly pleased with myself. I wasn't proud of myself. But you move on and you look forward rather than back."
Richards has kept a close eye on the game. As director of rugby at Leicester, he won four league titles and two Heineken Cups. He was always going to be a man in demand.
He revealed: "I had a lot of interest and a lot of options. I chose Newcastle because of the vision of the owner Semore Kurdi.
"I still have a burning passion to win competitions. It's a fantastic area. They are mad keen on all sport. When I start in August, it will be full steam ahead."
So is there a chance he might one day coach England, despite the scars of Bloodgate? "I hope Stuart Lancaster gets the support that he deserves and the chance to prove himself.
"For me, things would have to be right. I'd like the ball to be in my court. I don't know if the RFU would consider me. Having seen what I've seen, if someone asked me to be England manager today, I'd say 'no'."
Richards is focused solely on Newcastle. He has been given an opportunity to prove himself again as a coach of the highest quality. He will forever be associated with Bloodgate, but he is clearly thrilled at the prospect of returning to rugby.
"It's a game I love and have a huge passion for," he said. "There is huge regret for everything that went on, but, at the same time, it's a game I love and I think I've got something to offer it."