Ospreys seek to win hearts and minds as well as titles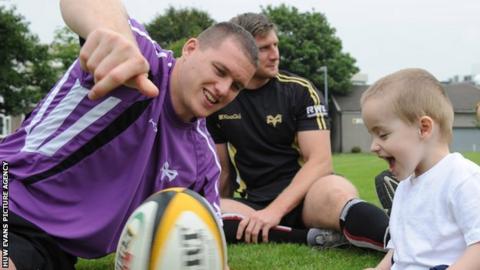 Being the victim of a robbery on the streets of a foreign country can rarely be described as a good thing.
And although Andrew Hore does not recommend being pick-pocketed, in the case of hooker Scott Baldwin, the Ospreys' chief operating officer is prepared to make a qualified exception.
Baldwin, an aspiring 23-year-old product of the region, was billeted in Milan in November 2011 for several months to give him the sort of life experience that Hore - and others - believe some modern professionals are missing out on.
"It was good for him, he grew up because of that; he had a flat with somebody he didn't know, he got robbed twice [pick-pocketed].
"He had to put up with all those kinds of things that… it was good for Scotty, he came back a different person."
Baldwin has gone on to make eight senior appearances since returning from his stint with ASR Milan and Hore sees such initiative as crucial to his desire to generate a culture that develops "heroes, not stars" as their Galacticos era disappears into history.
"There's a fine balance though of making sure a player can have a sort of normality around their life and not getting thrown into this - we're very quick in Wales with this stardom type culture - we want a hero-type culture where those people are celebrated for what they give back to the community," says Hore.
And while thoughts of winning the Pro12 League have been occupying Ospreys minds in recent weeks, that deeper cause has also been a recurring theme for Hore.
They are not alone in having suffered dipping attendances amid general apathy among rugby fans, particularly where they and Cardiff Blues are concerned.
The Blues have chosen to go back to their Arms Park roots to attempt to rekindle the fires of their former faithful fans.
And new Blues director of rugby Phil Davies has also talked of the possibility of the capital city-based club following the Ospreys' example by playing games elsewhere in the region.
Bridgend has become the Ospreys' second home on several occasions in the last few seasons.
But no matter where they play, Hore wants to ensure that off the field, they continually strive to encourage new generations of fans to back them in the hope that the season's belated surge in Liberty Stadium attendances can be maintained.
Almost 15,000 turned up to witness Shane Williams' official farewell when they saw off Newport Gwent Dragons on 20 April while a more modest, but notable 7,000-plus witnessed their 26 March win over Treviso.
Hore says his current role was born out of a desire to bring the Ospreys' rugby and commercial departments closer together after their 2003 formation by merging the Swansea and Neath clubs.
"That came with real issues that we've had to face and are trying to address now.
"And our future really is getting into the clubs, the schools and the younger population and having a longer-term focus.
"Regional rugby is going to take another 10-15 years, really, to have a history because by then you'll have three or four generations who won't know anything else and will have a feeling of connection with that region.
"Because if we do our job right and get out into the community, they see us, they want to interact with us, they know that we're playing on their behalf and have the honour of playing on their behalf, then hopefully they'll come with us - we'll have a whole generation of people that don't feel divided between region and premiership club or local club."
He cites the weekend of the final round of regular Pro12 games as an example of how the Ospreys are going about that task.
When they took on Aironi in Italy, 28 players were there while at home, more than a dozen players were visiting clubs.
On the field, the Ospreys ensured they prepared for Friday's play-off semi-final hammering of Munster with an 18-11 win over Aironi, having seen the coaching team of Steve Tandy, forwards coach Jonathan Humphreys and skills coach Gruff Rees make an initial success of their roles in the wake of Sean Holley and Scott Johnson's mid-season departures.
Hore says: "What they did really smart between Gruff Rees, and Humphs and Tandy, they'd actually taken what we'd been building for the last few years, tweaked a few things which they felt would be beneficial, had some feedback from the players and sort of moulded the style.
"Has it meant that we've scored more tries? No.
"However, there's more of an exciting air about it because of the style. And I think there's also an element of the intensity with which we're playing as well.
"There's a real desire. The players have made no secret of the fact that they want to play for one of their own, which is obviously Steve. Gruff has made a significant impact since he's been here.
"He's got a lovely nature and the boys have responded to that and then you've got Humphs who's the constant and he's developed a lot of these boys into the pack that they are so he has a lot of respect.
"So it was a whole series of factors that came together and a few tweaks from the coaches of where they could change and tweak things.
"And I think they've got bigger plans over the summer to take it forward. But they were smart enough not to change the world overnight, which is something I was guilty of when I first came here.
"But they've resisted that temptation and so I can only see us getting better and in particular when some of these young backs start to mature, we'll hopefully get some real strike power out there and start being able to capitalise on what the forwards are doing."