Rob Andrew has admitted England face a 'tough six months'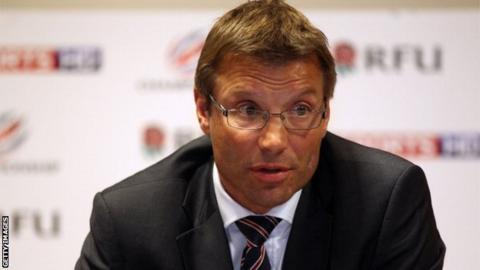 Rugby Football Union operations director Rob Andrew has admitted England face a "tough six months".
England go on tour next month without the backroom team Stuart Lancaster wanted after Andy Farrell and Wayne Smith rejected offers from the RFU.
After three Tests in South Africa, England face all of the Tri-Nations sides during the autumn internationals.
"The key thing is that nobody panics, which they won't. I'm sure Stuart won't," Andrew told BBC London.
Lancaster was named permanent head coach after leading England to an encouraging second-place finish in this year's Six Nations following a dismal showing at the 2011 Rugby World Cup under Martin Johnson.
Although Mike Catt has agreed to be part of Lancaster's staff, New Zealander Smith turned down the RFU's approach after Farrell had opted to stay with Saracens having assisted Lancaster during the Six Nations.
"You've got to respect people's decisions," said Andrew. "Andy and Wayne are two fantastic people, and Stuart was very keen to have them both on board, but we've now got to take stock as a Union.
"Stuart's put that on the back-burner for now. He's got Mike Catt coming in, and the coaching team can be looked at again in the summer (after the tour)."
Andrew also stressed that putting together an attractive financial package for future targets would not be an issue for the RFU.
"It never has been," he said. "There's been a lot of silly stuff said about how hard the RFU tried, which is ludicrous, to be honest."
Andrew accepts that Lancaster's youthful squad face a stern test to maintain that momentum over the rest of 2012, but he reckons it is a challenge they will relish ahead of the 2015 World Cup, which England host.
"The group of players we saw in the Six Nations are together, are very determined," he said. "They're on a fantastic journey.
"It probably doesn't get any more exciting, as an England player, than going towards a home World Cup, and I speak from personal experience on that after playing in 1991.
"If you can't enjoy these next three years, as a young English rugby player then, quite frankly, you're doing the wrong thing."