Departing coach Sean Lineen proud of Glasgow Warriors
Last updated on .From the section Rugby Union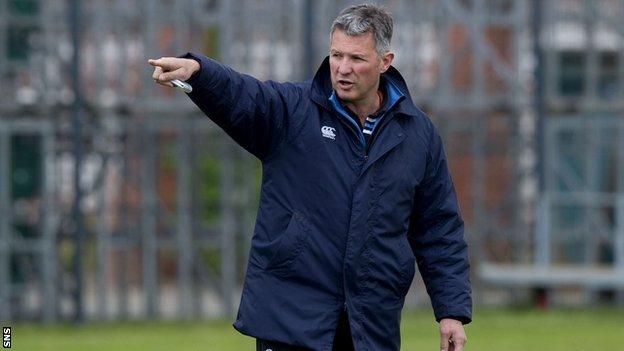 Departing coach Sean Lineen expressed his pride in the Glasgow Warriors team after his final match in charge.
"I'm really looking forward to my new role, I'm really excited by it," said Lineen, who will be replaced by Gregor Townsend.
"For Glasgow? Onwards and upwards. I'm just so proud of them."
Leinster and Glasgow were locked at 9-3 before two tries gave the Irish province side a more comforable advantage.
However, late tries by Dougie Hall and Stuart Hogg, the latter converted, brought Lineen's men back to within four points.
"They battled, they never gave an inch," said Lineen. "We're just maybe not quite as slick as them. We didn't have that composure and direction to get over the line. These are the little things and we're not far away.
"We had three squint line-outs, which is pressure. Duncan Weir misses a couple of kicks, which he wouldn't normally miss. That's where the pressure comes on individuals.
"But these guys will learn. Duncan's been fantastic for us. On these occasions, you need everyone really performing.
"I'm just so proud of what they've done this season and, as I said in [the dressing room], Glasgow are going to win something. We're edging closer.
"Our defence has been fantastic all season. But you can't just defend the whole game. There are parts of our game we need to really work on and I'm sure Gregor will do that. That's his forte in attack.
"We've blooded in some new young players. There's some other guys coming in to look at the ball carrying in the back row. We're strengthening the team. It's looking good for Glasgow."
And the former Scotland international added: "It's someone else's turn, I was lucky enough to get an opportunity nine years ago and now I'm lucky enough to still be involved in Scottish rugby in another role.
"That's fantastic for me."
Captain Alastair Kellock echoed Lineen's praise of the team's performance in Dublin.
"I'm gutted to lose that game but we made too many mistakes and we said it straight away," said Kellock.
"Overall, the emotion's disappointment. But, at the same time, seeing some of these guys that aren't going to play with Glasgow again, it's an emotional time and they did us proud."