Northampton Saints' Roger Wilson rues Premiership exit
Last updated on .From the section Rugby Union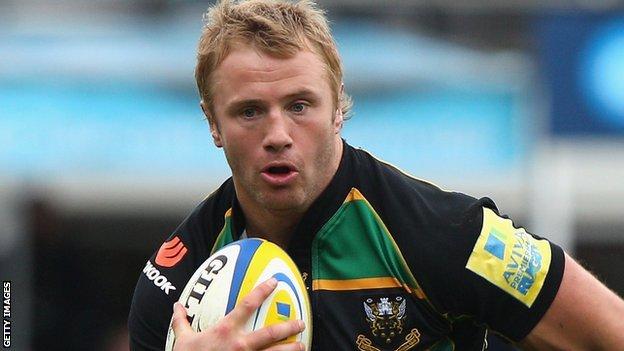 Outgoing Northampton Saints forward Roger Wilson says they must learn to deal with pressure situations better.
Wilson, who is set to join Ulster next season, told BBC Northampton: "It's happened quite a bit in big games.
"When the pressure comes on, we haven't dealt with it as well as we should've. If this team is going to move on, they'll have to learn."
He continued: "You've got to keep your mental focus and we just haven't done that."
Saints led by eight points with 10 minutes to go after Lee Dickson's converted try, but a Joe Marler touchdown and five points with the boot by Nick Evans sealed the win for Quins.
"It just shows that you can't shut off for a split second or you'll be points behind.
"It's not a good way to leave [the club] - obviously, it's very disappointing," said Wilson.
England international Phil Dowson believes that a home semi-final could have provided the edge for Saints, who finished fourth in the table.
"We played a little bit in our own third in the last 10 minutes more than we should do, but you can't give penalties and field position away.
"We fell short. We didn't do enough to get a home semi-final and we have to be better.
"You look at the way we started during the World Cup and we were poor. We lost to London Irish at home and away to Worcester.
"We pick up points there and a few other places and you get a home semi-final. It makes all the difference."
However, fly-half Ryan Lamb says next season will be a better reflection of the quality in their squad.
"It was always going to be tough with a depleted squad, but we're gutted for the fans. We're so sorry we couldn't finish it off for them.
"You can point fingers at whoever you want but we're fuming with the result," he commented.
"We'll come back stronger, we'll get a few boys back and we'll have our full strength for the start. Next year, you'll see what the Saints team are all about."