Jersey boss Ben Harvey targets top-half Championship finish
Last updated on .From the section Rugby Union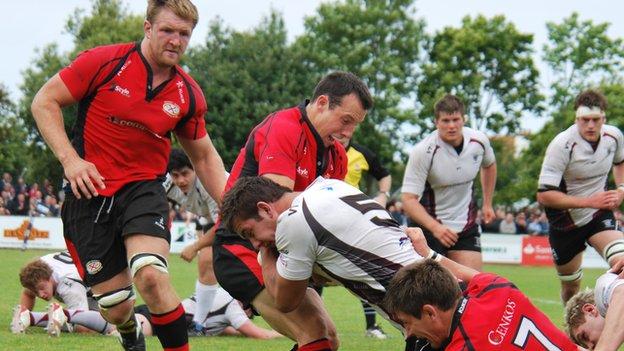 Jersey boss Ben Harvey says he is aiming for a top-half finish in their first season of Championship rugby.
"Success would be the boys fulfilling their potential and in my view that would be finishing in the top half of the league," director of rugby Harvey told BBC Radio Jersey.
"That's a huge achievement and it would be a massive achievement to do that."
And Harvey says he wants his team to go to the big names in the division and cause them problems.
"I want to be able to go to Leeds, Rotherham, Newcastle if they come down, Bristol and really frighten people.
"I don't see any reason why you can't go to these places and win matches, and win them well, and win them on your merit rather than relying on mistakes."
But Harvey is under no illusions that the club will have to invest in better players if they are to be competitive in English rugby's second tier.
"There are some clubs that have spent a lot of money - London Scottish scraped through going down last year and spent a lot of money doing it.
"When you go into the Championship you can't just throw time and effort into it, you've got to throw quality into it as well."
And with Jersey getting more than 3,500 spectators to some of their games at St Peter last season, Harvey wants even bigger crowds in the Championship.
The club has put in a planning application to extend the clubhouse and build a terrace behind one end of the field as they try and deal with crowds that have shot up by more than ten-fold in five years.
"I'd like to feel that if we were doing well in the Championship we'd get over 5,000, but we'd have to cater for them.
"The challenge for us is to make sure that we can get the income to provide the services around the ground.
"My bugbear is that we look after the punters, that they get housed properly, and get a covered standing area for them."