Ulster ready to make 'statement' by winning Heineken Cup
Last updated on .From the section Rugby Union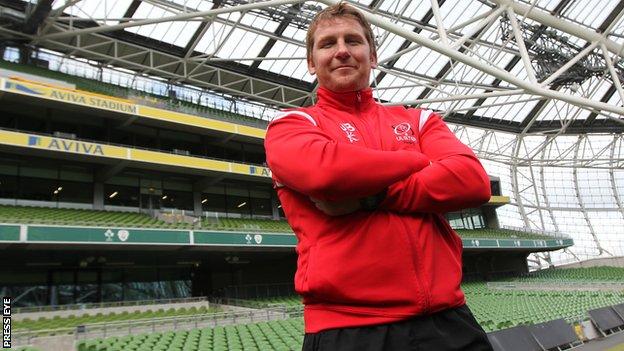 Ulster are determined to make a 'statement' by winning the Heineken Cup against their Irish rivals, Jonny Bell has said ahead of Saturday's final.
Bell, man-of-the-match when Ulster won the Heineken Cup in 1999, says the team are ready to beat Leinster in London.
"We have had to watch Leinster and Munster dominate Irish rugby," said Bell, who is Ulster's defence coach.
"We have been the bridesmaids. There is no better way to make a statement than winning the Cup against your rivals."
Bell knows what it feels like to be crowed champions of Europe and he wants that feeling for the current crop of players at Ravenhill.
While Leinster have tremendous experience, going for a third Heineken Cup in four years, he believes Ulster also have players with big-match temperaments.
"We feel we deserve to be in this final," he said.
"We are green in terms of Heineken experience, but we have world class players. They are experienced in big occasions and dealing with what comes with that.
"Johann (Muller), Pedrie (Wannenburg), Paddy Wallace, Rory Best, they have international experience. The Heineken is different because in the northern hemisphere there is a huge Heineken focus.
"It means a lot and I know it means a huge amount to the Ulster players."
Bell is calling on the Ulster fans to get behind the team like they did at Lansdowne Road in 1999 when Ulster beat Colomiers to win the European Cup.
"It was an incredible experience in 1999 and it showed us then the support we have when we play in games of this magnitude.
"Down through the years the Ulster supporters have really got behind us.
"It has been a difficult 13 years and our supporters have probably been frustrated.
"The year after we won it in 1999, we flopped. Since then, it has been a bit of a rollercoaster.
"We did win the Celtic League (in 2006), but in recent times overall it has been difficult. We have been trying to rebuild and we have been in transition.
"From an Ulster perspective, we have been the bridesmaids for too long. Hopefully that is about to change."