Jersey chairman Bill Dempsey backs Championship changes
By Brent Pilnick
BBC Sport
Last updated on .From the section Rugby Union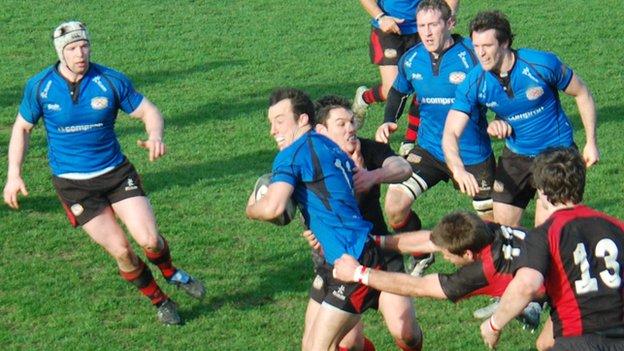 Jersey chairman Bill Dempsey says he is in favour of changes to the RFU Championship for next season.
English rugby's second tier will get rid of its promotion and relegation pool stages after the end of the regular season.
The top four teams will play off for promotion to the Premiership with the bottom side automatically relegated to National One.
"It's much better, it's much easier and simpler," Dempsey told BBC Sport.
"I always thought the way it was was a mess as you could end up in seventh or eighth place and still get promoted."
Jersey will play their first-ever season in the Championship in the autumn and Dempsey says he is also happy with the decision that the bottom-placed side should go down automatically, rather than playing off with three other sides.
"I think if you're bottom, you're bottom and you should go down.
"I think people have used and abused the system. Some clubs didn't spend any money and then went out in January and got six or seven players in order to survive," Dempsey said.
Clubs will lose three home games as a result of the changes but will be compensated with two extra fixtures in the British and Irish Cup.
And Dempsey says his club will have to make more from the home games they have left.
"We've got Leicester and Loughborough Students in pre-season and we host the the Siam Cup with Guernsey next May.
"So we're fairly happy that we're going to end up with 17 games in Jersey in total."