Leeds Carnegie to take three games to different grounds
Last updated on .From the section Rugby Union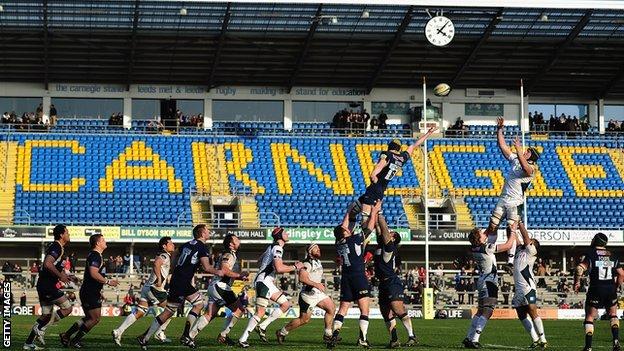 Leeds Carnegie have announced plans to follow the example of Yorkshire County Cricket Club and take some of their home fixtures to different grounds.
The Championship side have seen a slump in attendances since their relegation from the Premiership.
"We need to build a bigger fanbase and we need to engage with the rugby union fraternity," chief executive Gary Hetherington told BBC Radio Leeds.
"We've already identified five clubs throughout the county to work with."
As well as Headingley, Yorkshire play county matches at Scarborough.
Hetherington confirmed that three of the club's 14 home games next season will be played away from Headingley.
"It'll be good for all parties. The team who host the game will keep all the income and we'll have a good experience too," he said.
Having failed to secure promotion back to the Premiership through the play-offs this season, Leeds embarked on an extensive and public review of the club.
"We do a review every year and it's important that we're honest in it and we come out with a clearer picture of what went wrong.
"We recognise a lot of people have an interest in this club and we've never been lacking in transparency but this is an attempt to communicate a little better," Hetherington added.
The club, meanwhile, is to undertake a major overhaul of the squad and have begun that process by announcing that 19 players have not been retained.
Amongst those to leave are centre Scott Barrow, American international Mike MacDonald and ex-England international wing Michael Stephenson.