In-form Ospreys ready to improve ahead of Pro12 final in Leinster
Last updated on .From the section Rugby Union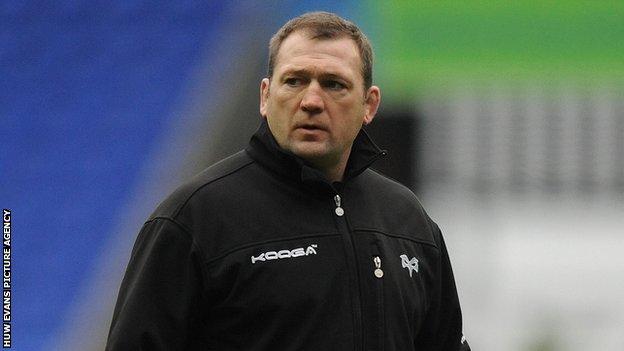 In-form Ospreys say they can improve for the Pro12 play-off final against Leinster in Dublin on Sunday, 27 May.
He predicts Leinster will beat Ulster in the Heineken Cup on Saturday and be ready for the Ospreys eight days later.
"We are going to be in their fighting and I think they know we have the ability to win," said Humphreys.
"We can definitely improve on the Munster performance.
"We felt we brought a little too much pressure on ourselves first-half [and] ended up with Munster having a lot of set-piece in our half first-half.
"We have to balance that out a bit.
"We asked a lot of our defence against Munster and even though our defence was outstanding, it's not really what we want to be doing on a regular basis."
Last year Leinster won the Heineken Cup against Northampton Saints, but went on to lose the league final against Munster.
Humphreys does not expect the European champions, who beat Glasgow 19-15 to secure their place in the Pro12 final, want to repeat that defeat.
"I cannot see them losing this weekend. I can't," he insisted.
"And they won the Heineken Cup last year and lost the following week against Munster and I'm sure they will want to put that right.
"It's not often you have the ability to put two titles in your bag.
"There are no weaknesses in their game so I expect them to win on Saturday and come well-prepared for us.
"They are the best side in Europe, consistently for the last three years.
"All their players are in prime time to get the best out of them."
The Ospreys have won their last six Pro12 encounters including a 23-22 victory against Leinster at the Royal Dublin Showground - the scene of the final.
"We are going to go there [to Dublin] with plenty of confidence and we have a lot of boys in this team who have won big things," added Humphreys.
"They have won a couple of Grand Slams and been involved with the [British and Irish] Lions and we have a lot of quality."