Cornwall miss county final despite North Midlands win
Last updated on .From the section Rugby Union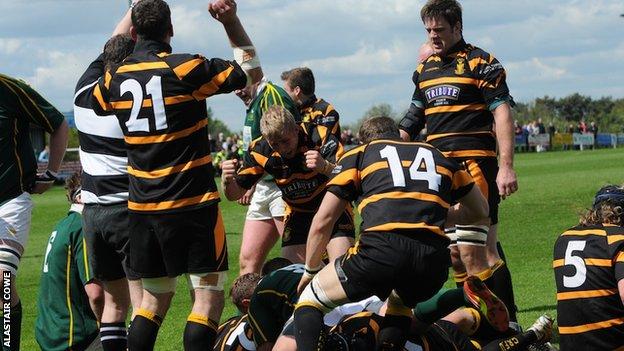 Cornwall missed out on a place in the County Championship final despite a "thoroughly deserved" 29-5 win over North Midlands.
They ran in four tries but were denied a trip to Twickenham when Hertfordshire picked up a bonus point in their defeat by Gloucestershire.
"We got the win that we thoroughly deserved," coach Dave Thomas told BBC Radio Cornwall.
"We played really well, we kept the ball for long periods of time."
Jamie Salter's try helped the Ducky to a narrow 7-5 lead at half time, but they dominated the second period as touchdowns by Steve Johns, Ben Hilton, Tom Rawlings and a Brett Rule penalty sealed the victory.
"It went the way we planned it in the second half and we scored some nice tries," said Thomas.
But they were left to rue last week's loss at Hertfordshire which effectively cost them the chance to play for the Bill Beaumont Cup next week.
"Last week is very much on everyone's minds," said skipper Ben Hilton.
"Two minutes of lost focus and our chance has gone for this year, but it shows great spirit and pride to see us playing good rugby again."
This year Cornwall began training over the winter and moved the annual Tamar Cup clash with Devon to April in order to give them more time to prepare for the County Championship.
And Thomas says beleives there is a lot more to come from the county side.
"The players are really up for it, there's a real closeness about this team which we've never had before.
"Everyone is saying that this is the basis for something to move forward for next season.
"We have gone forward a lot this season and the people that watch us realise we're playing a much different game," he added.