Heineken Cup final - as it happened
Last updated on .From the section Rugby Union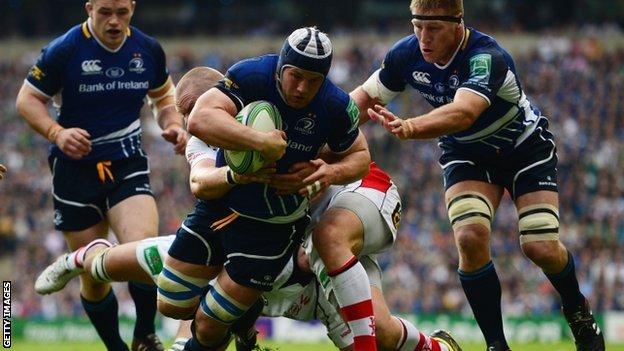 Please manually refresh for the latest updates.
RESULT: Leinster 42-14 Ulster
1927: That's your rugby union lot for today people. Thanks for putting up with the manual refresh palava, you are heroes to a man and woman. If you are looking for a bit more of that F5 action the Champions League footy is about to get going over on the BBC Football pages. Enjoy the rest of your Saturday. Bye for now.
Ulster coach Brian McLaughlin: "The two turnover tries where exceptionally disappointing, but they showed what a quality side they are. We came here with great hopes, but we had to take every one of our chances to win."
1920: The Leinster team are milking the moment in front of their supporters, exchanging fist pumps for flags. There is a telling moment as Jamie Heaslip leaps on Leo Cullen's back and brandishes one, two and then three fingers in front of the second row's face. Count 'em Skip.
Cottse on Twitter: "Mike for the record, no self respecting Leinster fan would darken the cobbles of Temple bar!"
I thought that might be the case. Wherever you are, enjoy it. There are not many eras like this whoever your team is.
1912: Leinster are amassing behind the silverware. Brad Thorn gives a disbelieving shake of the head as he adds another trophy to a glittering career. Leo Cullen and Shane Jennings take a handle each as they shove the Heineken Cup skywards. Then the pyrotechnics begin and the champagne squandering is not far behind.
Hugo Morrissey on Twitter: "Even after Leinster have a dominant lead they keep going. Proof of a world class club playing until the death."
1906: Ulster trail across the platform, pressing flesh and averting eyes as they collect their runners-up medals. Brian McLaughlin hugs his coaching staff in his last match in the province's hot seat.
Leinster captain Leo Cullen on BBC Radio 5 live: "It's pretty phenomenal. It is a pleasure to play with this group of players. We've had some dark days and it's important to remember them but we've got to push on."
Leinster's Brian O'Driscoll: "It will take a couple of days to properly set in. After winning one we said we weren't content and we wanted to create a dynasty. This team wants to win more."
1903: Leinster players cavort across the pitch as the final whistle blows. They are only the second side, after Leicester, to defend this trophy. Ulster are soon united in a huddle. After wins over Clermont, Leicester and Munster they have earned every moment of their time in the final, despite the lop-sided scoreline.
FULL-TIME:Leinster 42-14 Ulster
80 mins: CONVERSION (Sexton)Leinster 42-14 Ulster
79 mins: TRY (Cronin)Leinster 40-14 Ulster
A man down, Ulster are woefully short-staffed in defence as Leinster spin wide. Man of the match Sean O'Brien tucks the ball under his arm, charges through a gap and pops once more to Sean Cronin who puts in a spurt to get back round closer to the posts.
78 mins: Old midfield muckers Brian O'Driscoll and Gordon D'Arcy almost combine to add another score. They can afford to grin though as the ball dribbles forward from the former's hands.
Former Leinster winger Denis Hickie on BBC Radio 5 live: "Ulster have attacked from everywhere and been competitive and fierce but they've come up against one of the great European teams playing an incredible type of rugby. I'm not sure anyone could have lived with Leinster today."
76 mins: MISSED CONVERSION (McFadden)Leinster 35-14 Ulster
75 mins: TRY (Van der Merwe)Leinster 35-14 Ulster
Replacement prop Heinke van der Merwe, snorting fire off the bench, crashes over out wide after some deft hands from Sean Cronin. The Leinster fans are in full cry.
74 mins: They can start the celebrations in Temple Bar. Sexton's kicking, flawless since that early miss, delivers another three and, againt 14 men, this one is cooked.
73 mins: PENALTY (Sexton)Leinster 30-14 Ulster
73 mins: Ulster full-back Stefan Terblanche is heading to the sin-bin. The South African's frustration gets the better of him as he tip-tackles Sean Cronin with the ball well out of the picture. Jonny Sexton can rub salt into he wound with a penalty attempt from just outside the 22, on the angle.
71 mins: Leinster have possession and take the tempo down a notch as they attempt to seal the deal. Some slow recycling and a steady trudge from the forwards as the clock ticks down.
69 mins: Ulster's lingering hopes take a possibly fatal knock as Ian Humphreys is forced off through injury. Ruan Pienaar shifts out to fly-half from nine, with Paul Marshall on at scrum-half.
67 mins: PENALTY (Sexton)Leinster 27-14 Ulster
66 mins: Ulster have not got away with this one through. Rory Best fails to get to his feet before getting elbow-deep in a battle for the loose ball around the tackle. Nigel Owens blows up and this one looks fairly straightforward for Jonny Sexton.
64 mins: Leinster are piling forward to try and tuck this one up and send it to bed. Multiple phases bring them creeping up towards the Ulster line before a stealthy hand from Dan Tuohy smuggles the ball out of a ruck out of the sight of referee Owens. Leinster are appealing but Ian Humphreys boots upfield and Ulster have got away with it.
Former Leinster winger Denis Hickie on BBC Radio 5 live: "All of a sudden there's 20 minutes to go and it's only a 10-point match. [On Pienaar's missed conversion] How critical could that be? That could turn out to be very crucial."
61 mins: MISSED CONVERSION (Pienaar)Leinster 24-14 Ulster
60 mins: TRY (Tuohy)Leinster 24-14 Ulster
Finally the Leinster defence creaks and splinters. A lovely dart and basketball-style off-offload from Paddy Wallace draws the defence and springs second row Dan Tuohy who canters into the corner. White flags flying all around the ground.
58 mins: More Ulster pressure as the white shirts sweep back and forth along the Leinster five-metre line looking for a chink. They can't find it though and Rob Kearney puts his instep through it to relieve the pressure.
56 mins: Ulster take the plunge with an elaborate back row move but come up empty-handed. Number eight Pedrie Wannenburg slings his pass forward as he looks for Stephen Ferris' inside line.
55 mins: Ulster are giving it another big push. Afforded a penalty in front of the sticks, Johann Muller tells Ruan Pienaar to put the ball into a scrum rather than place it on top of the tee. Time to gamble.
53 mins: Clean as a whistle, Sexton sends the ball backflipping through the uprights. Sean O'Brien is in sharply to seal off a tackled Ulster man and secure a turnover from the restart. Leinster are wrestling their way back in front of their controls whenever Ulster attempt to stick their noses in. Paddy Jackson has been replaced at 10 by Ian Humphreys to end the Ulster man's traumatic afternoon.
51 mins: PENALTY (Sexton) Leinster 24-9 Ulster
50 mins: But Ulster might have just lobbed that lifeline back onto the shore. Straight from the restart they concede a penalty and Jonny Sexton, under advice from Leo Cullen, is going for the immediate reply to restore the 15-point gap.
48 mins: PENALTY (Pienaar) Leinster 21-9 Ulster
48 mins: Ulster are hanging here, but they get lobbed a lifeline as Sean O'Brien is pinged, rather harshly, for a high tackle. Ruan Pienaar points to the sticks. Forty metres out by my reckoning.
Former Leinster winger Denis Hickie on BBC Radio 5 live: "On the face of it that seemed like a very big call as Leinster were still a few yards out but replays showed that Ulster took it down - all the Leinster men were in the van and it looked like they were going over."
47 mins: CONVERSION (Sexton) Leinster 21-6 Ulster
45 mins: PENALTY TRY Leinster 19-6 Ulster
Another elementary error from Paddy Jackson. The Ulster fly-half trusts team-mate Stephen Ferris's claim that he did not nudge the ball back into the Ulster 22 as he fields a long kick. He is wrong to. Referee Nigel Owens call the line-out back as the young fly-half's kick sails out on the full. From the resulting line-out, Leinster bind tight and drive the maul up towards the whitewash. Only Ulster illegally dragging down brings it to a halt and Owens trots underneath the points to award the penalty try.
42 mins: Tom Court scrags Eoin Reddan as the Leinster scrum-half dawdles at the base, but Ulster's attempts to test the Leinster back three aerially are not really working. Isa Nacewa claims another high ball in comfort.
41 mins: Jonny Sexton gets us back up and running with a towering drop-out, safely gathered by the Ulster pack.
1804: The teams are back out on the pitch and there are no changes are either side, Paddy Jackson still in place in the Ulster 10 shirt.
Some Body on Twitter: "Leinster handling is the best I've seen! They have no RIGHT to get so many magical passes away!"
Northern Ireland golfer Rory McIlroy on Twitter: "What a day of sport today!! Not moving from my couch this afternoon!! Come on Ulster!!"
Former Leinster winger Denis Hickie on BBC Radio 5 live: "To get those points just before half-time is crucial for Ulster. Does Ulster coach Brian McLaughlin bring Ian Humphreys in now? That's one decision he's got to make."
1801: All that accumulated experience from two final victories in 2011 and 2009 is oozing out of this Leinster side. They are plundering points whenever Ulster leave the door ajar, while their opponents, for all their sweat and toil, have not quite got the street smarts to match. Would an Ulster comeback from here be even more surprising than Leinster's own last year? I reckon so.
Nathan Murtagh on Twitter: "Only his knee surgeon could cut through anything quicker than BOD cut through the Ulster defence."
1756: With its last drip of energy, Ruan Pienaar's kick flops just over the crossbar. That was crucial to send his side down the tunnel still within a sniff.
HALF-TIME:Leinster 14-6 Ulster
40 mins: PENALTY (Pienaar) Leinster 14-6 Ulster
40 mins: Ulster are awarded a penalty just inside their own half. Ruan Pienaar cranks up the hamstrings and attempts to pot it with the final kick of the half.
38 mins: Silky smooth midfield interplay between Jonny Sexton and Brian O'Driscoll as the centre slips a pass out of the tackle with the dexterity of one of Fagin's star pupils. Ominous stuff for Ulster.
35 mins: MISSED DROP-GOAL (Jackson)Leinster 14-3 Ulster
Ulster come out swinging from the restart, but Paddy Jackson's attempted drop-goal, plumb in front, is an ugly shanked swipe and the youngster hangs his head at it drifts wide.
Former Leinster winger Denis Hickie on BBC Radio 5 live: "That was exceptional play by Brian O'Driscoll [in the build up]. I thought Ulster were edging their way back into the game so to see that scoreline is a bit harsh."
32 mins: CONVERSION (Sexton) Leinster 14-3 Ulster
30 mins: TRY (Healy) Leinster 12-3 Ulster
Ruthless from Leinster. The Ulster front-row folds as Leinster turn up the heat and lose a scrum against the head. The Ulster backs are in disarray as they attempt to rearrange and Brian O'Driscoll picks open a hole with a neat stuttering step inside. The great man flips a pass out the side door to Sean O'Brien who shows some nifty footwork of his own. Rory Best hauls him down ten metres short, but Cian Healy is on hand to crash over the final few yards.
29 mins: Pienaar's team-mate Paddy Jackson can't match his touch. The Ireland under-20 fly-half clumsily clumps his own kick out of hand out on the full from a decent position with men outside him. He gets a rueful ruffle of the hair from Paddy Wallace.
27 mins: Ulster seem to have steadied the ship. Leinster Mike Ross gives away a penalty at the scrum as he hits the deck nose first at engagement and Ruan Pienaar thumps the kick downfield and safely into touch.
Elaine on Twitter:"More wedding fever just outside London... Frustratingly close to Twickenham but #bbcrugbyunion keeping us going at the table!!!
Steven Hunter on Twitter:"Ulster being outkicked at the moment. Terblanche looks a little average against Kearney."
Former Leinster winger Denis Hickie on BBC Radio 5 live: "It's like a giant game of seven-a-side. Everyone's out on their feet. It's been a fantastic start, tremendous quality of rugby."
23 mins: Play sweeps down the other end as Ulster spill Eoin Reddan's clearing box kick and Leinster pounce. Desperate, desperate times for the Ulster defence, but they scamper back in just enough numbers to usher Reddan and then Isa Nacewa into touch. Ribcages heaving in the white shirts after some lung-bursting efforts to cover the ground.
21 mins: Lovely 15-man stuff from Ulster as John Afoa, Rory Best and Chris Henry get their mitts on the pill. Eventually they work a sliver of space down the left touchline, but the Leinster defence floods across to carry Stefan Terblanche into touch just as the South African pins his ears back for the corner.
Teifi Jones from Wales via text on 81111: "I predict an Irish winner today!"
Cheers Teifi, the pundit contract is in the post.
18 mins: Inexplicable from Jonny Sexton. His kick needed plenty of boot from just outside the Ulster 10-metre line. He duly applied it, but the Ireland number 10's radar was well out of kilter as his effort drifts harmlessly wide.
16 mins: MISSED PENALTY Leinster 7-3 Ulster
15 mins: That Leinster score may have drawn the sting from Ulster's fast start. Stephen Ferris's shonky clearance kick puts them back under pressure and Jonny Sexton has another pot at goal following an Ulster infringement as they chase to make amends.
14 mins: CONVERSION (Sexton) Leinster 7-3 Ulster
13 mins: TRY (O'Brien) Leinster 5-3 Ulster
12 mins: Sean O'Brien barges through the thin white line, but has he got the grounding right? Downward pressure looks to be there, but is the Leinster flanker a millimetre short? Referee Nigel Owens has gone upstairs...
11 mins: Leinster piling on the pressure, five metres out.
9 mins: Leinster start to put the phases together, but Ulster are snaffling and sniffing around the breakdown. It is another turnover for the underdogs, but Paddy Jackson overcooks his clearance kick and the ball flies out on the full.
7 mins: PENALTY (Pienaar) Leinster 0-3 Ulster
6 mins: Another penalty for Ulster and this one is the sort that Ruan Pienaar might fancy his chances from. Leinster forwards bury their torsos into the turf at the ruck and the referee points skywards. Twenty-five metres out on only a slight angle.
5 mins: Ulster are trucking the ball up diligently and then suddenly Darren Cave skirts round a flat-footed Leo Cullen and is almost through.The cover drags him down 15 metres short, but Leinster are looking a little ruffled.
Terry Mulvey on Twitter:"At a wedding in Scotland with many ulster folks with no access to tv or radio."
2 mins: Rob Kearney plucks a Stefan Terblanche up-and-under out of the thin blue, but the Leinster full-back is turned over by a mob of white-shirted forwards and Ulster have put in at the first scrum.
1700: Ulster get us under way, kicking up to the Leinster 22.
1659: A late change on the Leinster bench to let you know about. Scrum-half Isaac Boss has failed a late fitness test and John Cooney is on in his place.
1658: 82,000 spectators are in place, the stirring strings are blasting out the speakers, we are almost there.
Ulster director of rugby David Humphreys: "At some stage we have to win a game against them and I believe we have closed the gap on them. Today we have our starting XV which we believe is a match for anybody."
Ulster have won once in their last 17 meetings with Leinster.
Peter Carson on Twitter: "Cheering on Ulster all the way from Benoni in South Africa! 4 Saffers involved plus my parents are from Belfast+Lurgan."
Leinster coach Joe Schmidt: "We are obviously under pressure and the ability to try and stay focused on what is happening on the field rather than round about is key. We are conscious of what Ruan Pienaar can do but we are concentrating on what we can do and what we can control. Brian O'Driscoll is raring to go after his operation and I don't think you will see any impairment in his play."
Leinster: R Kearney; F McFadden, B O'Driscoll, G D'Arcy, I Nacewa; J Sexton, E Reddan; C Healy, R Strauss, M Ross; L Cullen (capt), B Thorn, K McLaughlin; S O'Brien, J Heaslip. Replacements: S Cronin, H van der Merwe, N White, D Toner, S Jennings, I Boss, I Madigan, D Kearney.
Ulster: S Terblanche, A Trimble, D Cave, P Wallace, C Gilroy, P Jackson, R Pienaar; T Court, R Best, J Afoa, J Muller (cpt), D Tuohy, S Ferris, C Henry, P Wannenburg. Replacements: N Brady, P McAllister, D Fitzpatrick, L Stevenson, W Faloon, P Marshall, I Humphreys, A D'Arcy.
1648: The key men today may be from the other side of the equator. South African Scrum-half Ruan Pienaar has been pulling the strings and splitting the sticks for Ulster. Grizzled Australian rugby league international, turned All Black Brad Thorn has added some bark and bite to the Leinster pack. Plenty of domestic candidates vying for your attention though with Stephen Ferris, Rob Kearney, Andrew Trimble and Cian Healy all worth keeping an eye on. That Leinster 10-12-13 axis of Sexton-D'Arcy-O'Driscoll is as tasty as ever as well.
Full line-ups coming right up.
1645: Back to matters in hand though. En route to today's big day, Ulster emerged victorious from a trip to Munster's Thomond Park fortress in the quarter-finals and then snuffed out Edinburgh's romantic rumble to the latter stages in the semis. Their opponents meanwhile were within a Wesley Fofana fumble of going out in the semi-finals after slicing and dicing Cardiff.
Revel in the action from the earlier rounds by pointing your cursor at the scorelines below
Semi-finals:
Clermont Auvergne 15-19 Leinster
Quarter-finals:
1639: Before today's all-Irish affair, French sides Biarritz and Toulon went tete-a-tete across the road at the Stoop for the Challenge Cup. There was a fair dash of English involved as well with Jonny Wilkinson's six successful kicks outweighed by seven from Dimitri Yachvili for a Biarittz side that featured Iain Balshaw at full-back.
A bit of news that may have slipped your notice from yesterday afternoon was that to pack down alongside Andrew Sheridan next season. That is some serious front-row grunt.
BBC Sport's Bryn Palmer at Twickenham on Twitter: "If Chelsea are optimistic of causing CL final upset, blue could be the colour at Twickenham too. Leinster going for 3rd title in 4 years."
1634: Also spotted was Ulster's Kiwi prop John Afoa sat on his backside, getting a bit of supplementary strapping on his ankle. He is back for Brian McLaughlin's side after a four-game ban.
1631: From some early snatched shots of Twickenham, it looks like the powers that be have strewn some old school red telephone boxes and branded London cabs along the touchlines to remind anyone in any doubt, where exactly this match is taking place. From my memories of RFU HQ, a snaking line of bitter-soaked punters waiting for a train might have done the job better...
1626: One thing is a certainty from today - a fifth Irish winner in seven years. Your thoughts on what is going so right on that side of the Irish Sea are more than welcome. Former Ireland captain Phillip Matthews has been chatting to our man Bryn Palmer and puts it down to English forwards still, after all these years, longing to stuff it up the jumper while the backs catch nothing more than chilblains. Fair?
1623: Feed your messages straight and true to this live and I'll hook some out of the scrum and slap them straight up on to the screen. The digits you want for text messages are 81111 with RUGBY before your message and your name firmly attached. On Twitter it is all about the hashtag #bbcrugbyunion. Hit me.
1620: After sweeping aside Northampton in a stirring comeback this time last year, Leinster are aiming to become only the second side to successfully defend the trophy, racking up a third win in four years in the process.
Ulster have been beaten home and away by Leinster this season and finished well adrift of their title-winning opponents in the Pro12. Understandably underdogs then against the Dublin glory boys, but when has that worried an Irish team?
1615 BST: And you thought All-Ireland finals were reserved for autumnal Gaelic football showdowns at Croke Park...
Not today. There is a corner of south-west London turning emerald as the red and white of Ulster take on Leinster blue in the best club competition in world rugby. The Heienken Cup final at Twickenham is an an hour away.