Winger Rhys Crane signs new Nottingham contract
Last updated on .From the section Rugby Union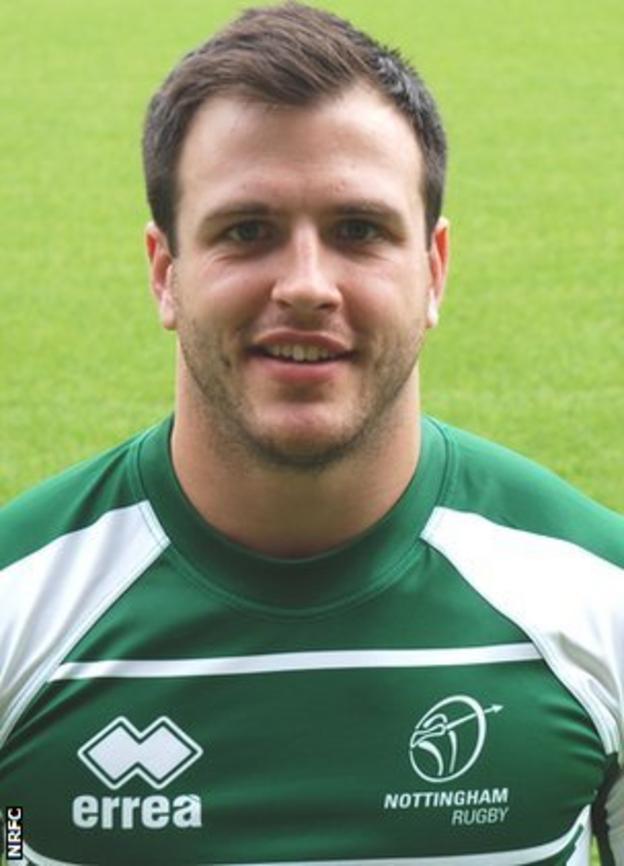 Nottingham winger Rhys Crane has signed a new deal for the 2012-13 season.
But director of rugby Glenn Delaney said a brief appearance at the end of the season against London Welsh earned the back his new contract: "He showed us exactly what he is about."
Meanwhile 21-year-old scrum-half Finlay Barnham has signed a two-year contract.
"He has a big future with us," said Delaney.
"Already he's come a long way in two years with us, developing into a great character, solid player and an impressive leader."
Delaney continued: "Rhys added energy and enthusiasm to the game at a time that it was lacking on the pitch.
"He showed fantastic desire to play for this club, his attitude, application and potential is everything we look for in a player.
"He is clearly a talented player who had a horrendous season with injury.
"He is no more of a risk than any other player, he proved his fitness at the end of last season and has put those knee problems behind him.
"We are not worried about what's happened in the past, we are only concerned about what he can do for us in the future."
Crane said he was thrilled to remain in Nottingham, and vowed to repay the faith shown by the club's management.
"Reputations aren't made in one game, and now I have a whole season to look forward to proving myself," Crane said.
"It's a great to have the vote of confidence from Glenn that he feels that I have something to give the club.
"I'm looking forward to a good pre-season. Just the prospect of getting a full pre-season without any niggles holding me back is a nice change from the past few years."