Jeremy Guscott Q&A

By Jeremy Guscott
Rugby union analyst, BBC Sport
Last updated on .From the section Rugby Union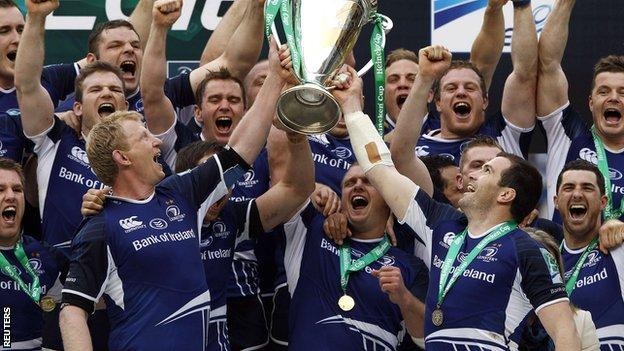 Among the topics the former England and Lions centre discusses this week are:
- Whether Leinster are the best European team ever
- How many more years Brian O'Driscoll will play for
- Who should win the Premiership final between Harlequins and Leicester
- Wales' chances of winning in Australia during the summer
Jerry will answer as many of your questions as possible each week but not every question submitted can be used. This week's answers appear below.
I think the final sealed it: Leinster are the best team to have ever graced the Heineken Cup. Do you agree? Harry Lock, England
Hi Harry, credit where credit is deserved and Leinster deserve plenty. They play the game at a different level to most teams, combining aggressive defence with thoughtful attack - it is total rugby intelligence, which is missing from most teams.
They are a real pleasure to watch but I'm sure most past winners would agree there's still a massive debate to be had as to whether they are the best there's ever been.
I know we've had this question before but it seems even more topical now. Why is it that two Irish teams can produce a final like the one on Saturday but can't translate that form internationally? Do you think it is a staff or player problem? Is it time for the IRFU to think about getting rid of Ireland boss Declan Kidney? Tom Hoctor
Reflecting upon an amazing Heineken Cup, in particular Leinster's magnificent triumph and the emergence of Ulster in this campaign, I am still left bemused as to the lack of success for the Irish national team. Is Joe Schmidt a better coach than Kidney and manages to maximise the potential of his players? Is it time for change? Andrew Smalle, Ireland
Hi Tom and Andrew, there's a massive difference playing for your club/province compared to playing for your country. You may have the individual talent but it's the collective that counts. When you are playing provincial and club rugby it becomes an everyday occurrence and the familiarity works in your favour, whereas playing for your country isn't a constant, so things may not work as smoothly.
It's a real surprise to outsiders why Ireland can't produce the same performances that Ulster, Leinster and Munster manage. It's up to the Ireland players to work out the best possible way for them to play together, because Ulster, Leinster and Munster all play in different styles with different leaders.
Ireland function differently depending on who plays at fly-half - Kidney needs to have more faith and stick with either Ronan O'Gara or Jonathan Sexton. Sexton's the future so personally I would pick him, stick with him and let him dictate the gameplan more.
In addition, the Irish front row doesn't function as well as the provincial front rows and that's a big area that needs sorting too.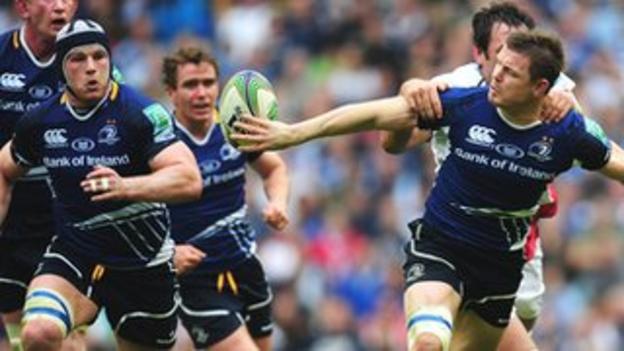 In your opinion, how many years has Ireland captain Brian O'Driscoll got left? Henry McNamara, United Kingdom
Hi Henry, Brian's 33 now but, given the time he's had out with injury, I'd give him at least two more seasons. He was involved in a light-hearted discussion on Twitter about the subject on Monday - you can read his thoughts here.
The Heineken Cup final seemed incredibly one sided. Add this to Leinster's domination of the competition lately and it seems like they've got a monopoly on it. What can the rest of Europe do to stop this juggernaut? John, UK
Hi John, quite simply the rest of Europe's teams have to look at their attack and have the balls to do what Leinster have been doing - playing incisive, attacking rugby.
Do you think it was right or wrong to start youngster Paddy Jackson at fly-half for Ulster and do you think his difficult experience in the Heineken Cup final will serve him in a positive or negative way? Conor, Ireland
Hi Conor, given how well Ulster have performed this year and the team choices that got them so far, I would agree with the decision to pick Jackson. I have no doubt at all that the experience will be a positive for him, despite the loss.
With both teams coming off massive margins of victory against tough opposition, who do you expect to be 2011-12 Pro 12 champion? Can the Ospreys repeat their away win over Leinster that started off their run to the final, or will the Heineken Cup champions add to their trophy collection? Brawn, Wales
Hi Brawn, it's hard to see Leinster losing against Ospreys unless they are still hung over from their Heineken Cup celebrations.
Ospreys have some advantages - they will be fresh from having a week off, they have a pack of forwards that would cause most teams huge problems and it will also be Leinster's third game in a row, which is tough physically and mentally.
However, it's just really hard to see Leinster not finishing the season off with a win in front of their home fans. Leinster will certainly be favourites to win.
Hi Jerry, after Leinster's phenomenal performance in the Heineken Cup final, how many Leinster players do you think will be shoe-ins for the British and Irish Lions tour to Australia next year? Thanks, Alastair Telford, England
Hi Alastair, that's the beauty of sport, today Leinster are megastars but there's another game this weekend and another season before the Lions are selected. No doubt if the likes of European player of the year Rob Kearney, Jonathan Sexton, O'Driscoll, Sean O'Brien, Jamie Heaslip and Cian Healey maintain this kind of form they will be in with a huge shout.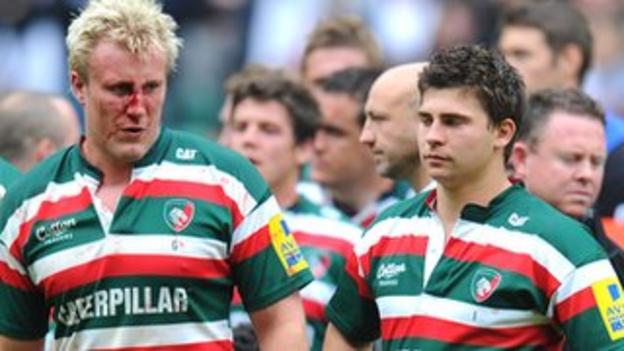 For the first time since the days of Brian Moore, Jason Leonard and Andy Mullins in the front row, Harlequins seem to have the strength up front to take on Leicester. On the other hand Tigers have developed more flair in the backs, which will make for an interesting Premiership final.
The key seems to be nine and 10 and I wondered where you feel the upper hand is? Marc Robinson, United Kingdom
Hi Marc, I like the style, commitment and intention of both teams to go out and play the game as I feel it should be. Nine and 10 are only two of the many match-ups that appear all over the teams.
On paper it's a very even contest but Tigers seem to have a slight edge in form and combined with their greater experience of finals rugby, they will be favourites. That doesn't mean they will definitely win, however.
Do you think, even if Quins don't win this season, that they can go on to be a force in Europe and in England over the next couple of years? Do they have the foundations to compete with the Leinsters of this world? Sam, UK
If Quins win the final and add some depth to their squad, do you see them going on to challenge for the Heineken Cup next year? Or maybe world domination?! Grace, England
Hi Sam and Grace, world domination is asking a little too much, they need to win the Premiership first before thinking of Europe, but then anything is possible.
Having said that it's nigh-on impossible for English clubs to compete on both fronts, given the salary cap and the toughness of staying in the top six of the domestic league. The English clubs would need to have more talent, no injuries and better luck to do well in Europe.
Do you think Wales can turn over the Aussies in their backyard this time? Geraint Morgan, Wales
Hi Geraint, Wales have the talent to beat Australia and I believe they will be massively disappointed if they don't win one Test at least. However, don't underestimate how difficult a task it is to win a Test series in the southern hemisphere, it doesn't happen often.
Indeed, Wales have only ever won two away Tests against one of the three southern giants - New Zealand, South Africa and Australia - with both wins coming against the Wallabies. They beat Australia 19-16 at the Sydney Cricket Ground back in 1969, while their 1987 win over the Wallabies came on New Zealand soil as it was the third-fourth play-off in the inaugural World Cup.
The last-gasp 22-21 victory, thanks to Adrian Hadley's try and Paul Thorburn's touchline conversion, took place in Rotorua - and even then the Wallabies had been reduced to 14 men after flanker David Codey was sent off.
Australia are a class act with a lot of talent. For Wales to win the series I would say they have to win the first game, if they don't they will have to work really hard to win one match.
With his NRL, State of Origin (both rugby league), Super Rugby, Tri-Nations, World Cup and now Heineken Cup winner's medals, is Leinster's New Zealand lock Brad Thorn the greatest rugby player ever? Dennis Suter, England
Hi Dennis, that's certainly some CV and I don't know another player that comes close to it. In my opinion there have been better players in each code but none have achieved his medal count in both codes. He's a remarkable athlete who has competed for a long time and deserves his success.
Mr lucky drop-goal, there's a lot of new names in England's touring squad, any new players you'd like to see given a run in the backline for the Test matches against South Africa?Cas, South Africa
Hi Cas, it wasn't lucky, right time right place... I'm looking forward to seeing the likes of Jonathan Joseph and Christian Wade performing at this level to see if they can impress and make the step up.
Jeremy, now the season has (nearly) finished, what moment has stuck out as your favourite? Matthew Clark, Scotland
Hi Matthew, there's several. Quins beating Toulouse in Toulouse in the Heineken Cup, Wales wing George North smashing Fergus MacFadden and off-loading to Jonathan Davies to score in the Six Nations, Dan Lydiate's performances for Wales at blind-side flanker, Rob Kearney's season and finally Leinster - they have certainly lived up to the 'Leinstertainment' tag.
Why not also follow Jerry on Twitter?