Premiership final: Tigers can draw on wise old heads
Last updated on .From the section Rugby Union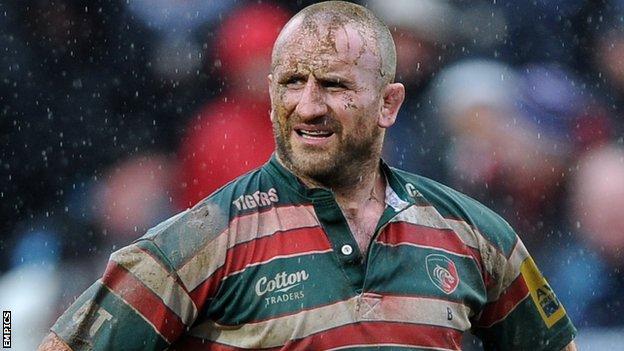 If there is one near certainty about Saturday's Premiership final it is that Leicester duo Geordan Murphy and George Chuter will not get stage fright.
Between them the pair have played in 12 previous Premiership showdowns, stretching back to the 2005 loss to Wasps, and at least one of them has started every one of Leicester's previous finals on the way to their exceptional eighth successive appearance.
Along with prop Marcos Ayerza and winger Alesana Tuilagi, the Tigers can turn to a backbone that share the collective wisdom of 23 Premiership final appearances.
Chuter, along with his captain and the departing Tuilagi, will play in a seventh season finale and the hooker knows the script for the big occasion from cover to cover.
The man who will be 40 days shy of his 36th birthday on Saturday is wise enough to dismiss Tigers' run of only one loss in their last 17 Premiership games ahead of what is 80 minutes of winner-takes-all rugby.
"The form coming into a knockout game is largely irrelevant," Chuter told BBC East Midlands Today.
"Very rarely do these games go to form. It's a fight, a one-off and there's nothing after it. You've just got to scrap for it on the day.
"The pressure does funny things to people and it's about who handles the pressure better," he added sagely.
The 34-year-old Murphy, who was injured for last season's clash with Saracens, will lead his side out on Saturday for his 193rd Premiership game.
And the former Ireland full-back knows that while his club's pre-match regime may have been tweaked over time, the unrelenting drive for success remains the same.
"The game has changed and the processes of our preparation have changed from year to year but from my point of view it's all about this final," he told BBC Radio Leicester.
"I don't think about anything that has happened in the past, I just want to get some silverware in this competition."
When the two sides met a few weeks ago at the Twickenham Stoop it was the Tigers who prevailed but neither man says, at least publicly, that game hands the East Midlanders a particular advantage.
"A lot of people have given us a lot of credit winning down there a few weeks ago but I don't think that counts for much - I think if anything it motivates them that little bit more," Murphy added.
"We both have scored a lot of tries but, in saying that, it's a final and there are a couple of ways it could go.
"If there are a couple of scores early it could be a try-fest but if it's a little bit tense and it's a 9-6 lead it could be a one-try game."
Chuter's assessment is more skewed to a tight forward battle against a Quins pack that has come of age this term and provided the platform to unleash their talented three-quarters.
"It's going to be very fine margins. In that sort of pressure of a final the little things become magnified. It's going to come down to which side can hold their nerve and execute better than the other," the former England hooker added.
Much has been written about Tigers' remarkable season; about how they clawed their way back from second bottom of the Premiership in October to round off the regular season in riotous fashion.
For Chuter, the experience has not only galvanised the club but reaffirmed the belief among fans and players that they deserve success.
"It's been a great thing to batten down the hatches and take the muck that was being thrown around: people calling for people's heads, saying the club was over. We let all that bounce off us," the Premiership's record appearance holder continued.
"When you're losing you take a closer look at yourself. You don't often get the opportunity to stare down the barrel and then come out the other end and be successful.
"Even as a supporter you learn something about the club, you learn although there are dark times there is a guarantee that things will come right."